Kwiatkowska, Malgorzata (2020) Land East of New Road, Mistley, Essex. [Client Report] (Unpublished)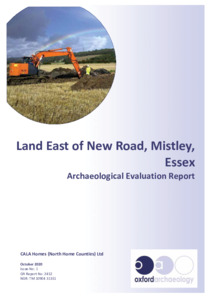 Preview
PDF




OAE_Report2452_XEXNRM20_LR.pdf


Available under License Creative Commons Attribution Share Alike.
Download (3MB) | Preview
Abstract
Between 7th and 11th September 2020 Oxford Archaeology conducted an archaeological investigation by trial trenching on land to the east of New Road, Mistley, Essex (centred TM 1090 3135), ahead of residential development.
Twenty 30m long trenches were excavated, nine of which revealed archaeological features, including ditches and discrete pits and post holes. The majority of these features were located along the southern boundary of the proposed development area. Finds were scarce and many of the features
remain undated, but two ditches were associated with post-medieval finds and a single sherd of (residual) probable prehistoric pottery was recovered.
Item Type:
Client Report
Uncontrolled Keywords:
Essex, essex, Tendring, tendring, Mistley, mistley, Evaluation, evaluation, archaeological evaluation, Post-Medieval, post medieval, Post Medieval, post-medieval, Ceramic Building Material, ceramic building material, CBM, cbm, Tile, tile, Fired Clay, fired clay, ditch, ditches, post hole, posthole, post holes, postholes, boundary, boundary ditch, boundary ditches, land use, land-use, agriculture, farming, land division, Pottery, pottery, pot, ceramic, sherd, vessel, Post-Medieval pottery, post medieval pottery, Post Medieval pottery, post-medieval pottery, residual, residual pottery, residual sherd, 2452, report 2452, Report 2452, OAE report 2452
Subjects:
Geographical Areas > English Counties > Essex
Period > UK Periods > Modern 1901 - present
Period > UK Periods > Post Medieval 1540 - 1901 AD
Divisions:
Oxford Archaeology East
Depositing User:

Hamilton

Date Deposited:
19 Oct 2020 07:50
Last Modified:
19 Oct 2020 07:50
URI:
http://eprints.oxfordarchaeology.com/id/eprint/5845
Actions (login required)