Allen, Martyn A Later Iron Age Enclosure, Early Roman Pottery Production and Later Roman Agriculture at Longford, Gloucestershire. Archaeological Excavation Report. [Client Report] (Unpublished)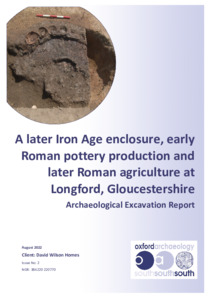 Preview
PDF




LOF14_v2.pdf


Download (16MB) | Preview
Abstract
"Between March 2014 and May 2015, Oxford Archaeology undertook an archaeological excavation at Longford, Gloucestershire, on a housing-development site. The excavated area extended over c. 8.5ha and revealed features dating from early prehistory to the medieval period.
Several prehistoric pits and postholes produced evidence for deposition during the middle Neolithic, with some pottery and most notably a crouched inhumation burial reflecting activity in the early Bronze Age. No evidence was found to date from the later Bronze Age and through much of the Iron Age until the establishment of a distinctive multi-ditched enclosure probably during the 2nd century BC. The enclosure was maintained until the Roman conquest, soon after which it was modified and used for pottery production. Three pottery kilns characterised this industrial phase when the site was making and supplying products for consumption in nearby Gloucester.
Pottery production continued until the early 2nd century AD when the settlement expanded northward and became more focussed on agriculture. Continual developments took place through the later 2nd and 3rd centuries AD, and it was during this period that increasing signs of domestic activity was observed farther to the north, possibly representing the development of a new settlement in this area. Funerary activity, including both inhumation and cremation burials ranging variously in date from the Bronze Age to the later Roman period, was noted in several areas within the site.
Fourth-century activity was largely absent, and it seems likely that the settlement was abandoned around this time, after which the site was predominantly used for arable cultivation through the medieval period."
Actions (login required)