Sinclair, Kelly (2021) Foxton Travel Hub. [Client Report] (Unpublished)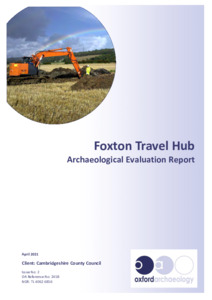 Preview
PDF




OAE_Report_2458_v2_FOXTRH20_LR.pdf


Available under License Creative Commons Attribution Share Alike.
Download (7MB) | Preview
Abstract
Between the 14th September and 2nd October 2020, Oxford Archaeology East (OA East) carried out a trench evaluation at the site of the proposed Foxton Travel Hub, Foxton (TL 4062 4856). The trenching was informed by an earlier geophysical survey and by mapping of cropmarks and earthworks in the area. Archaeological features were recorded in 14 of the 15 excavated trenches, providing evidence of early Roman and post-medieval activity.
Further, minor, phases of work were carried out on the 29th of October 2020 and the 15th April 2021, comprising the monitoring of the excavation of a series of geotechnical test pits across the site and the excavation of a single trench some 100m to the east of the main evaluation area.
The evaluation confirmed the presence of a double ditched trackway and an adjoining rectangular enclosure previously plotted from cropmarks. The pottery from both the enclosure and trackway ditches indicate an early Roman date for these features. The line of the trackway was followed by a low broad earthwork bank which has presumably been heavily denuded by ploughing. Subsurface remains associated with this bank were poorly preserved and no dating evidence was recovered, but it has previously been suggested to represent a post-Roman (medieval) field boundary following the earlier alignment of the trackway. In the south-western part of the site was evidence of extensive post-medieval quarrying. The quarries did not extend onto the embanked course of the trackway, suggesting it remained a significant boundary feature into post-medieval times.
The Roman trackway is clearly associated with a major and long lived complex of Roman settlement and activity located little more than 500m to the west of the site, along Foxton Brook, and the results of the evaluation are of some significance in terms of understanding the development of Roman and post-Roman land use in the local landscape.
Item Type:
Client Report
Uncontrolled Keywords:
Cambridgeshire, cambridgeshire, Foxton, foxton, Travel Hub, travel hub, trackway, ditch, ditches, double ditched trackway, ditched trackway, enclosure, evaluation, Evaluation, archaeological evaluation, geotechnical test pits, quarry, quarrying quarry pits, extractive pits, Roman, roman, Post-medieval, post-medieval, Post Medieval, post medieval, Pottery, pottery, pot, ceramic, sherd, vessel, Roman pottery, roman pottery, Post-medieval pottery, post-medieval pottery, Post Medieval pottery, post medieval pottery, Roman trackway, roman trackway, Post-medieval quarrying, post-medieval quarrying, Post Medieval quarrying, post medieval quarrying, boundary feature, 2458, report 2458, Report 2458, OAE report 2458
Subjects:
Geographical Areas > English Counties > Cambridgeshire
Period > UK Periods > Post Medieval 1540 - 1901 AD
Period > UK Periods > Roman 43 - 410 AD
Divisions:
Oxford Archaeology East
Depositing User:

Hamilton

Date Deposited:
17 May 2021 08:25
Last Modified:
17 May 2021 08:25
URI:
http://eprints.oxfordarchaeology.com/id/eprint/6002
Actions (login required)