Mumford, James Eastern Green, Coventry Archaeological Evaluation Report. [Client Report] (Unpublished)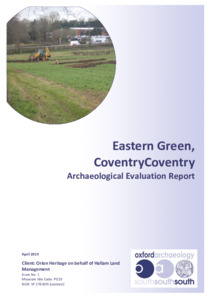 Preview
PDF




ALLEG19.pdf


Download (7MB) | Preview
Abstract
Oxford Archaeology was commissioned by Orion Heritage, on behalf of Hallam
Land Management, to undertake a trial trench evaluation at the site of a
proposed mixed development at Eastern Green, Coventry (centred on NGR SP
278 809). The work was undertaken as a condition of Planning Permission
(planning ref. OUT/2018/3225).
The evaluation comprised 10 trenches, generally 30m by 2m, located in two
main areas, Area A to the north and Area B to the south.
In Area A, the trenches were located to test the small discrete positive
geophysical anomalies in the NW of the site. In Area B, the enhanced magnetic
response was tested related to a medieval moated site. The work was carried
out over four days between 10th and 14th February 2019.
In Area A, the geophysical anomalies were found to be spreads of ash and
clinker within the subsoil. These archaeological remains were of postmedieval
industrial and agricultural origin and were of a moderately well
preserved, intermittent nature.
In Area B the enhanced magnetic response, within the moated area, was
found to correspond to a visible positive earthwork, extending approximately
50m. This showed that the site was divided into two by a pronounced earthen
bank revetted with stone walls. The area to the east of the earthwork
demonstrated the presence of several additional stone structures and
surfaces, covered by demolition layers. The finds assemblages overlying the
denuded and potentially demolished structures and earthwork provide a
general date from 16th – 18th centuries, which may corroborate the end date
for the moated area as an inhabited site. The area to the west appeared to be
more open and may have been used as a paddock, garden or for cultivation.
Within this area was a single ditch dated to 1150 – 1330, which may provide a
date for the commencement of occupation at the site.
Actions (login required)