Howsam, Charlotte Nuffield Place Drainage Project, Nuffield, Oxfordshire Archaeological Watching Brief Report. [Client Report] (Unpublished)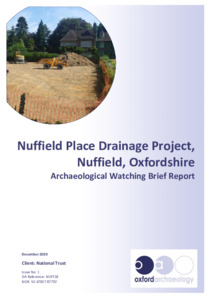 Preview
PDF




NUFF18.pdf


Download (4MB) | Preview
Abstract
Oxford Archaeology carried out an archaeological watching brief at Nuffield
Place, Nuffield, Oxfordshire, in July 2018. The work was commissioned by the
National Trust and involved the monitoring of groundworks associated with
proposed improvements to sections of the existing sewerage system.
An area measuring c 1040m2 located to the south of Nuffield Place had been
stripped of topsoil prior to the arrival of the monitoring archaeologist. No
archaeological finds or features were observed within this area.
The watching brief comprised the monitoring of the excavation of five
trenches, each measuring c 2m by 2m, for sewer-pipe repairs within the
stripped area. The monitoring of the groundworks revealed a stratigraphic
sequence of subsoil/levelling deposit, c 0.1–0.3m thick, overlying the natural
geology, which were encountered c 0.3m below ground level.
A single ditch was revealed within Trench 3 in the centre of the site, cut by the
existing sewer pipe. Small quantities of prehistoric worked flint, undated
pottery and charred cereal grains were recovered from the ditch, providing
evidence of a limited presence in the wider landscape during the prehistoric
period.
Actions (login required)