Connor, Aileen (2006) Roman Enclosures at Longsands Community College, St Neots, Cambridgeshire. [Client Report] (Unpublished)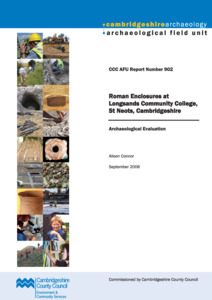 Preview
PDF




CCCAFU_report902_LR.pdf


Available under License Creative Commons Attribution Share Alike.
Download (1MB) | Preview
Abstract
An archaeological evaluation was undertaken in the grounds of Longsands Community College, St Neots between 21/08/06 and 30/08/06. The Archaeological Field Unit of Cambridgeshire County Council undertook the work on behalf of Cambridgeshire County Council Property Services.
The evaluation was designed to assist in defining the character and extent of any archaeological remains within the proposed redevelopment area, in accordance with the guidelines set out in Planning and Policy Guidance 16 - Archaeology and Planning(Department of the Environment 1990). The results will enable decisions to be made by CAPCA, on behalf of the Local Planning Authority, with regard to the treatment of any archaeological remains found.
Two areas of development are proposed in the Community College grounds, a new building and a new all weather pitch. The area of the proposed all weather pitch contains significant archaeological remains including a possible roundhouse, ditched track and a series of large ditches that may be part of an extensive enclosure system. Pottery from the features indicates a consistent date in the Early Roman period (1st and 2nd centuries), although the roundhouse and track may be earlier.
The area of the proposed new build has a much lower incidence of archaeological features comprising a single, possibly prehistoric ditch.
The site archive is currently held by CCC AFU under the site code STN LSC 06 and will be deposited with the appropriate county stores in due course.
Item Type:
Client Report
Uncontrolled Keywords:
Cambridgeshire, cambridgeshire, St Neotsd, st neots, St Neots Town, st neots town, Evaluation, evaluation, archaeological evaluation, Roman, roman, Pottery, pottery, pot, ceramic, sherd, vessel, Roman pottery, roman pottery, trackway, track way, Roman trackway, roundhouse, round house, ditch, ditches, enclosure ditch, enclosure ditches, enclosure system, Roman enclosure system, Roman field system, 902, report 902, Report 902, CCCAFU report 902
Subjects:
Geographical Areas > English Counties > Cambridgeshire
Period > UK Periods > Roman 43 - 410 AD
Depositing User:

Hamilton

Date Deposited:
15 Jun 2022 09:25
Last Modified:
15 Jun 2022 09:25
URI:
http://eprints.oxfordarchaeology.com/id/eprint/6301
Actions (login required)