Vannan, Alastair (2008) DOE POT CAVE, CHAPEL-LE-DALE, NORTH YORKSHIRE Assessment of Archaeological Potential. [Client Report] (Unpublished)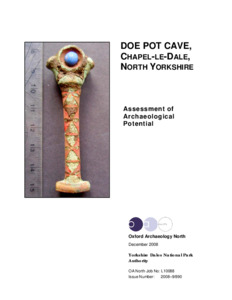 Preview
PDF




Chapel-le-dalecomplete.pdf


Download (2MB) | Preview
Abstract
A recent discovery of prestige Roman metal artefacts within Doe Pot cave, which lies to the south of Chapel-le-dale, North Yorkshire, has highlighted the potential for this, and other caves in the area, for further archaeological remains. As a consequence the Yorkshire Dales National Park Authority has commissioned Oxford Archaeology North (OA North) to
undertake an initial archaeological assessment of the sites significance, potential, and the threats to the deposits within the cave. The assessment of the cave has indicated that it is a site of national importance that has potential to contain further remains relating to the Romano-British period. In addition to such remains, the cave might also contain remains relating to later prehistoric cave use. It
was also recognised that many of the other caves in the environs may also contain archaeological remains. The site has the potential to inform us about the changing nature of
cave use through time in the region, as well as providing information relating to the degree of continuity of cultural and / or ritual traditions that might exist in relation to the role of caves in North Yorkshire.
The cave is considered to be at risk from threats relating to future use by cavers and watererosion, and if the knowledge of its discovery becomes wide-spread there exists the possibility that it could be targeted by illicit antiquities collectors. Archaeological recommendations for the preservation of the site include the need for regular monitoring of Doe Pot, and the other pot holes in the vicinity, and the excavation of deposits within the
cave that are at risk of continuous erosion and damage. It is also recommended that the location of the site be kept confidential to deter antiquity collectors.
Actions (login required)