Elsworth, Dan and Clark, Paul (2003) ST JOSEPH'S HOME, BOTCHERBY, CARLISLE Cumbria Archaeological Assessment and Evaluation Report. [Client Report] (Unpublished)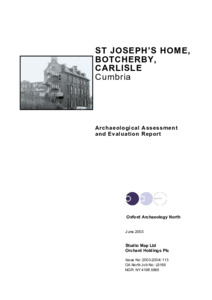 Preview
PDF




completereport.pdf


Download (1MB) | Preview
Abstract
In January 2003 a desk-based assessment and evaluation was carried out by Oxford Archaeology North (OA North) of the area of St Joseph's Home, Botcherby, near Carlisle (NY 4198 5565), as part of a planning application by Studio Map on behalf of Orchard Holdings Plc to redevelop the site for housing. The study area is situated to the east of Carlisle, essentially within the modern city, although historically outside. It consists of the plot of land currently occupied by St Joseph's Home. St Joseph's Home covers a large part
of the development area but the rest is open ground (Plate 3). The desk-based element of the assessment was followed by a walk-over survey on 21st January 2003 which examined the extent of the development area. Following this, eight
archaeological evaluation trenches were excavated across the site between 21st and 24th January 2003. The assessment identified a large number of sites of archaeological interest within the general vicinity of the development area, many of which were previously recorded on the
SMR. These ranged from late prehistoric to post-medieval in date, and included several individual find spots of coins, axes and other objects, as well as two Roman graves. The
other sites identified were mostly medieval or post-medieval in date, in some cases relating to St Joseph's Home itself and were of relatively little archaeological importance. Recent excavations in the neighbouring fields to the west found few archaeological remains, while those to the south-east identified a late prehistoric structure of unknown function. The archaeological walk-over survey identified two additional structures not found by deskbased assessment. These consisted of the remains of a structure near to the northern boundary of the site which had very similar build and materials to St Joseph's Home, as well as an area of disturbed ground in the north-east of the site consisting of a relatively recent partially constructed building.
The evaluation trenching revealed evidence for a demolished building to the north of St Joseph's Home that appears to have been broadly contemporary with the construction of
the home. It also identified numerous services associated with the building and evidence for a widespread truncation of the site prior to construction of the home. The remains of the original drive were also uncovered. No archaeological features were identified dating prior to the construction of the building, and all finds recovered were post-medieval in
date, mainly late nineteenth or early twentieth century.
Given that no significant archaeological resource was identified by the evaluation, it is recommended that no further archaeological works be undertaken in advance of or during the proposed development.
Actions (login required)