Hughes, Vix (2003) FORMER PYE'S WAREHOUSE, LANCASTER, Lancashire Archaeological Evaluation and Watching Brief Report. [Client Report] (Unpublished)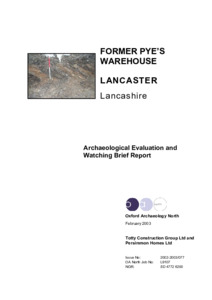 Preview
PDF




completereporteval2003.pdf


Download (3MB) | Preview
Abstract
An evaluation was carried out by Oxford Archaeology North (OA North) in August 2002 on behalf of Totty Construction Group Plc and Persimmon Homes Ltd at the site of the former
Pye's Warehouse, Damside Street, Lancaster (SD 4772 6200). The work took place in advance of the construction of a new housing development. Three evaluation trenches were excavated within the foot print of the original building, at the southern and eastern ends of the site.
Following on from the evaluation a watching brief was maintained during the excavation of ground beams for the new development between 26th September and 11th October.
Excavation of the trenches revealed up to 1.5m of stratigraphy in which five phases were identified. Phase 1 was the earliest and comprised naturally accumulated riverine deposits.
Phase 2 comprised a large number of tipped deposits which sloped from the western side of the site towards the eastern side. Many of the deposits contained rubble and mortar, and were interpreted as building debris; other layers contained unabraded pottery fragments and were interpreted as contemporary domestic waste. The layers dated from the early to mid-eighteenth century and were probably dumped intentionally over the soft alluvial deposits in order to
build up and stabilise the ground at the river's edge. Two sandstone walls, probably dating to the eighteenth century, were identified in Phase 3. Phase 4 comprised demolition layers, some of which may have been laid down intentionally in order to stabilise the ground. In Phase 5 a sandstone surface was recorded in Trenches 1 and 2, in addition to more levelling layers.
Phase 6 comprised levelling and destruction layers representing the demolition of the eighteenth/nineteenth century buildings prior to the remodelling of the town centre in 1938. The watching brief confirmed the presence of tipped material over much of the site, with riverine deposits located in the southern end of the area investigated.
A small number of Roman and medieval pot sherds were recovered, but these were largely residual. Post-medieval pottery made up the bulk of the finds, with 167 fragments recovered; the sherds dated for the most part from the first half of the eighteenth century and were mostly domestic vessels. The quality and range of the wares reflect Lancaster's economic prosperity during the eighteenth century, which may be linked with the expansion of the Lancaster port facilities at that time.
While there is the potential for medieval or Roman deposits on the site, these will be at considerable depth. Unless changes in design are implemented which necessitate excavations to a greater depth, these deposits are unlikely to be significantly affected by the proposed development.
As a watching brief was maintained during the excavation for the insertion of the ground beams, it is considered that no further archaeological investigation is necessary during the
course of the development.
Actions (login required)