Ellsworth, Dan (2002) AUGILL SMELT MILL, Cumbria Archaeological Building Investigation. [Client Report] (Unpublished)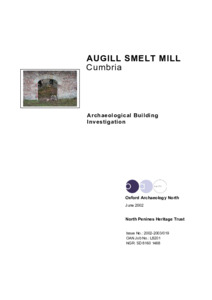 Preview
PDF




completereport.pdf


Download (2MB) | Preview
Abstract
Oxford Archaeology North (OAN) undertook a building investigation of Augill smelt mill in Cumbria (SD 8160 1468), which is a scheduled monument in November 2001,
The investigation was carried out in order to inform a management plan for the site and involved a Royal Commission on the Historical Monuments (England) (RCHM(E)) Level
3 survey of the building to produce a plan of the site and drawings of all the elevations, with the exception of the east external elevation, which was too badly collapsed to
examine usefully. This survey involved taking rectified photographs of the building, enhanced by digital data collected with a reflectorless total station; the plan was produced entirely with the reflectorless instrument. The analysis of the fabric of the building corresponded to RCHM(E) Level 2, and assessed the building's form, function and development. A topographic survey of the earthworks surrounding the building was also undertaken using a conventional total station.
The smelt mill is thought to have been built in 1843 to process lead ore produced in the mines to the north. At some time in the mid to late nineteenth century it was converted to enable the roasting of iron ore nodules, which were also discovered in the vicinity. The mill went out of use in the late nineteenth century and was subsequently used as a stable. The roof was removed in the mid twentieth century and the building quickly fell into dereliction.
The building comprised a north / south orientated long room, with a smaller room on the southern end. Externally, against the northern gable is a wheel pit and on the east wall of
the long room is a series of four hearths. A long, broad flue is set along the outside of the same wall and extends from there, through a long circuitous route, to a chimney on the summit of the adjacent hill.
The building survey identified three phases of alterations to the building, which appear to relate to the main historical events outlined above. The most significant alteration involved the raising of the walls by up to 1m, probably to allow for the establishment of a
first floor and thereby to enable the charging of the hearths from above. Further modifications included the probable partition of the southern room and the creation or
alteration of access into this southern end of the building, which probably occurred at the same period as the raising of the walls. The conversion of the building to a stable led to
further, more cosmetic alterations, including the removal of machinery and blocking of unnecessary doorways and hearths.
Several of the earthworks within the immediate environs of the smelt mill probably relate to its operation or construction, including a leat (now almost totally obscured), an associated track, the flue, two quarries, and a charcoal burning platform.
Actions (login required)