Atkins, Robert (2013) A probable Mid/Late Iron Age settlement and Medieval to modern settlement at Coldhams Lane, Cambridge: PXA and UPD. [Client Report] (Unpublished)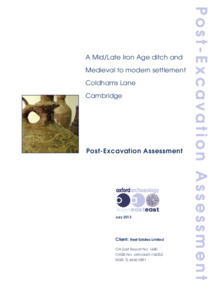 Preview
PDF




Report 1440_LR.pdf


Available under License Creative Commons Attribution Share Alike.
Download (6MB) | Preview
Abstract
Archaeological excavation by Oxford Archaeology East at Intercell House, Coldhams Lane, Cambridge (TL 4656 5891) was conducted between 17th December 2012 and 25th January 2013 in advance of a proposed new hotel. The excavated took place on the western third of the site following an earlier evaluation (Atkins 2012b).
A Mid/Late Iron Age ditch, at least 20m long, which was recut three times was uncovered at the extreme northern part of the site aligned roughly east to west. These ditches were presumably part of a settlement to the north of the site, under the present Newmarket Road. They were filled with a moderate quantity of artefacts and ecofacts. A C14 date from charcoal on a pottery sherd from the latest recut produced a date of 201-47BC with 95.4% probability (SUERC-46080 (GU30161).
The site was within the lay settlement of Barnwell Priory, whose precinct wall was opposite the excavation on the other side of Newmarket Road. The excavation found occupation dating from c.AD 1200 to the modern day with a small period of abandonment from c.1550/1600 to c.1650. The excavation itself took place in parts of two or three former medieval house plots, although neither the boundaries nor the houses had survived but these had presumably been next and perpendicular to Newmarket Road respectively. The westernmost plot presumably fronted onto Coldhams Lane, although up to c.AD 1400 there were no evidence of houses fronted onto this road as large pits were found near the frontage.
In the high medieval period (c.AD 1200-1400), up to six wells (only up to four in use at any one time) and over 30 pits of various sizes and types (including quarry pits and two which had been clay lined). Several of these features contained moderate to large quatiities of artefacts and ecofacts with good survival in waterlogged deposits from two wells. In the period c.AD 1400-c.1550/1600 there was a decrease in the number of features although there were either possible back plot structures from plots which had fronted Newmarket Road or, less likely, houses fronting onto Coldhams Lane. Other features comprised up to 16 pits including an interesting possible cess pit, partly upstanding with part of its brick floor surviving and walls comprising brick, tiles and a few reused stone including carved examples. These features went out of use possibly in the Dissolution period although a few features may have continued in use just after this time.
After a period of abandonment when the site may have reverted to pastoral farming, the site was reoccupied in c.AD 1650, although occupational evidence initially comprised layers with only small quantities of artefacts/ecofacts from them. There were only a few 18th century features found within the site, but included several post holes from probable houses fronting Coldhams Lane. From the late 18th century/c.AD 1800 there was a large increase in the quantity of features. This corresponds with the cartographic and documentary evidence which records the site owned by three people/organisations with the site comprising houses including cottages of poor houses/workhouses with the latter belonging to the parish of St Andrew The Less. Over this 200 year period to the present day the site was continually rebuilt on with former properties only standing for relatively small time periods before being replaced.
Actions (login required)