Sims, Mike (2013) Dickson Poon Building, St Hugh's College, Oxford. [Client Report] (Unpublished)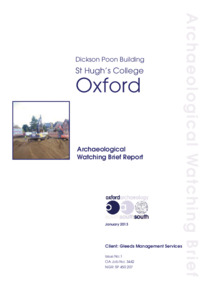 Preview
PDF




OXCHIN12.pdfA.pdf


Download (2MB) | Preview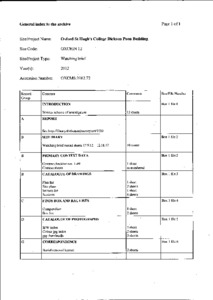 Preview
PDF




OXCHIN 12 Oxford St Hugh's College Dickson Poon Building_A1b.pdf


Download (6MB) | Preview
Abstract
Summary
Between September and November 2012 Oxford Archaeology conducted an archaeological watching brief during the groundworks for the construction of the
new Dickson Poon building at St Hugh's College Oxfiord (NGR: SP 50972 07718).
The earliest clear evidence recovered by the watching brief was a series of parallel
shallow linear features belonging to ridge-and-furrow cultivation running north-south across the site. These underlay landscaping deposits probably associated with the
earlier houses built upon the site from 1832 onwards.
A succession of rubbish pits dating to the 19th and early 20th centuries was observed. Two 19th century well shafts, one brick-lined, the second stone-lined,
were also recorded. These may relate to the earlier houses, or may alternatively have been associated with the houses still fronting Canterbury Road, whose rear
gardens have since been incorporated into the college grounds.
A number of rectangular features whose fill included corrugated iron and 20th century finds were recorded along the southern edge of the site. There are parallels
to these features in the demolished air raid shelters found at other colleges (such as the one within the Provost's Garden at Queen's College), and it is likely that they
date from the WWII use of the college as a military hospital.
No certain evidence for any features or deposits pre-dating the ridge and furrow was observed, although a single human bone was found in a 19th century layer. This is
likely to be residual from an earlier burial, as no Christian cemetery is known in the vicinity, but this bone is at present undated. No residual finds of earlier date were however recovered. Although some truncation had presumably occurred due to the medieval cultivation, the complete absence of traces of any earlier features or finds
(other than the human bone) makes it likely that any earlier occupation took place on, or in the immediate vicinity of, this site.
Actions (login required)