Anker, Katrina The Vicarage White Horse Lane Whitchurch. [Client Report] (Unpublished)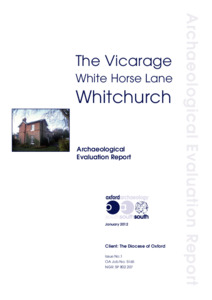 Preview
PDF




WHVIC11.pdfA.pdf


Download (1MB) | Preview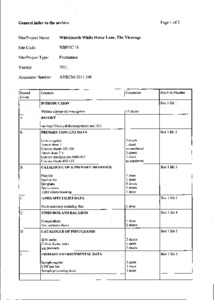 Preview
PDF




WHVIC 11 Whitchurch White Horse Lane, The Vicarage_A1b.pdf


Download (5MB) | Preview
Abstract
Oxford Archaeology was commissioned by the Diocese of Oxford to undertake an archaeological evaluation within the grounds of the Vicarage and the neighbouring
church hall in advance of submission of a planning application for re-development.
The evaluation was undertaken in November 2011 and consisted of three trial trenches and a single test pit. The excavations were targeted upon the footprints of
proposed new building development and represented an approximate 20% sample of the new build footprint.
Trench 1 contained the remains of a tree throw which extended beyond the northern trench limit and a small area of root action. The tree throw contained fragments of
19th century pottery and several fragments of residual late medieval pottery.
Trench 2 was devoid of archaeological remains.
Trench 3 contained a re-cut ESE-WNW orientated ditch. Fragments of late medieval pottery were recovered from both phases of the ditch along with fragments of
residual Anglo-Saxon pottery. The ditch was sealed by 0.70m of modern overburden.
Trench 4 contained two small areas of bioturbation, an undated mortar-filled posthole and the remains of a hearth base constructed from fragments of unworked limestone. An extension to Trench 4 revealed the extent of the hearth and demonstrated that no associated features survived within the extended area.
Fragments of tile recovered from the hearth and overlying deposit dated to the 14th- 16th century. Some of the tile was burnt and soot stained suggesting it had possibly
been re-used and incorporated as hearth edging. Pottery in the overlying demolition/levelling layer dated to the 17th-18th century.
Actions (login required)