Rees, Gareth (2011) Post-medieval quarry pits and railway buildings at Academy House, Hills Road, Cambridge. [Client Report] (Unpublished)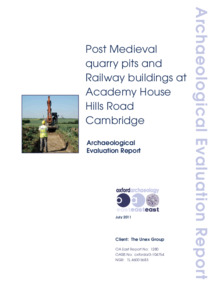 Preview
PDF




Report1280_LR(1).pdf


Available under License Creative Commons Attribution Share Alike.
Download (1MB) | Preview
Abstract
On the 21st June and the 22nd June 2011 Oxford Archaeology East conducted an
archaeological evaluation at Academy House, Hills Road, Cambridge, in advance of
the proposed development of offices and associated car parking. The site lies in the
vicinity of a possible Roman temporary camp, thought to lie to the east and close to
the route of the Via Devana Roman Road. Historic mapping shows that the first
modern use of the site was in the mid-19th century, when buildings associated with
the railway were constructed here.
Two trenches were excavated in the car park of an existing building, Unex House,
that lies to the north of the site. Evidence of quarrying of the natural gravels, dating
to the Post-Medieval period, was uncovered in Trench 1. All of the deposits
encountered in Trench 2 were associated with the mid 19th century engine sheds
and goods yards. No archaeological deposits relating to earlier periods were
uncovered on the site. The Roman Via Devana is unlikely to have crossed through
this site and any associated road side settlement was either not present or has been
truncated by later activity.
Actions (login required)