Gilmour, Nick (2009) Excavation, Evaluation and Watching Brief at Linton Village College, Linton Cambridgeshire Post-excavation Assessment and Updated Project Design. [Client Report] (Submitted)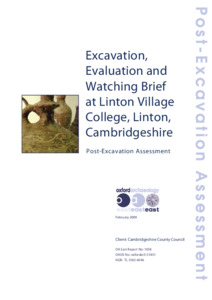 Preview
PDF




Report1058_LR.pdf


Available under License Creative Commons Attribution Share Alike.
Download (1MB) | Preview
Abstract
Evaluation, excavation and watching briefs were carried out at Linton Village College between March and August 2008. These revealed extensive evidence for Later Roman activity, as well as features dating from the Neolithic to Saxon periods. Two Neolithic pits were excavated which contained Grooved ware pottery and
worked flint, also several sherds of Beaker pottery were recovered. A large Late Bronze Age enclosure ditch was identified and a significant assemblage of worked flint was discovered in this. Several Iron Age features, including one which contained a human femur, were recorded. Many later Roman features, including a surfaced trackway, boundary ditches, pits and possible structural evidence, were found. The majority of the finds assemblage
from the site dated to this period, including pottery, worked stone, coins and animal bone. The burial of a neonate found on the site was also carbon dated to this period. Five individuals, buried in three graves, were found on the site, these were dated to the Middle Saxon period. Three of these individuals had been decapitated and it is possible that this represents a small execution cometary, although the presence of a multiple burial, including a child and a sub-adult, would make this an unusual example. A large curving boundary ditch also contained likely Saxon pottery. There was little evidence of occupation on the site after the Saxon period, and it is likely that the site reverted to open fields before until school was built in the 1930's. This activity ties in well with work carried out at Linton Village college in 2004 and 2005 and adds to knowledge of the past of this area.
Actions (login required)