Dodd, Mark Llanwrin to Dolgellau Gas Pipeline Replacement. [Client Report] (Unpublished)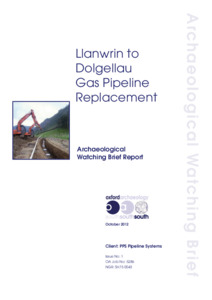 Preview
PDF




WAGAS12.pdfA.pdf


Download (9MB) | Preview
Preview
PDF




WAGAS12 digi photos.pdf


Download (120MB) | Preview
Abstract
A watching brief was undertaken along the 23.5 km route of a gas pipeline through
mountainous terrain in mid-Wales, passing through Powys, Gwynnedd and Snowdonia National
Park. The landscape is very varied, including the Afon Dulas and Afon Llefenni river valleys, the
Mynydd Gwerngraig and Cadair Idris uplands, the Afon Wnion river valley as well as hill areas
around Dolgellau.
Very little significant archaeology was encountered. A single possible prehistoric or Roman
cremation burial was identified, but its date and identification as a human burial remain
uncertain.
Other features identified were few in number and either undated or demonstrably of modern
date. The latter included a mill race, structures within a flint quarry and buried footings
associated with a sheepfold.
The possible lines of Roman Roads between Brithdir (Dolgellau), Cefn Caer Roman fort at
Pennal (Machynlleth) and Ffestiniog were investigated at seven locations. At six locations
former or current tracks were observed as eroded hollow-ways, but revealed no evidence that
could shed light on the early origins of these routeways.
A survey of historic boundaries was undertaken to record the profiles of potentially significant
boundaries and attempt to recover dating evidence for the origins of the field boundary systems
crossed by the pipeline route. No significant dating evidence was recovered.
A series of hand auger samples was recovered to assess the palaeoenvironmental potential of
relatively shallow surface peat deposits encountered at several locations along the route. None
of the sequences were suitable for further analysis – Modern radiocarbon results were obtained
from one of the sequences, which could reflect the recent origin of the peat, or contamination,
possibly caused by bioturbation. None of the peat sequences were associated with
archaeological remains.
Actions (login required)