Keevill, Graham LOWER FARM, NUNEHAM COURTENAY, OXFORDSHIRE. [Client Report] (Unpublished)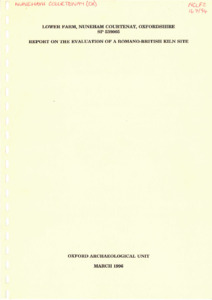 Preview
PDF




NCLF2 95.pdfA.pdf


Download (5MB) | Preview
Abstract
The Oxford Archaeological Unit discouered, a substantial Romnno-British kiln site in a pasture field at Lower Farm, Nuneham Courtenay, in 1991. Geophysical suruey (by the
Ancient Monuments Laboratory) and. fieldwalhing (by OAU) have established that the site is very extensive. The geophysicaL surveys have identified numerous individual kilns, often in clustered groups, within a complex of enclosures and trackways. Annular features are
also present, but the function and, date of these ís unclear. The fieldwalking established,
that the surface distríbution of Roman pottery continues strongly eastward to (and perhaps beyond) the modern road, from Wallingford to Oxford. This report presents a detailed
appraisal of the project results, and sets out an outline approach to further work which may be required in order to provide adequate data for the determination of preservation
and management strategies.
Actions (login required)