Hiller, Jon and Mudd, Andrew RYCOTE, CHAPEL OF ST MICHAEL PARISH OF GREAT HASELEY, OXFORDSHIRE. [Client Report] (Unpublished)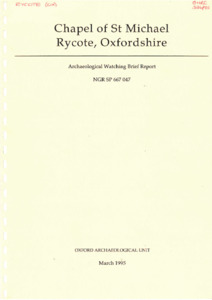 Preview
PDF




GHRC 95.pdfA.pdf


Download (846kB) | Preview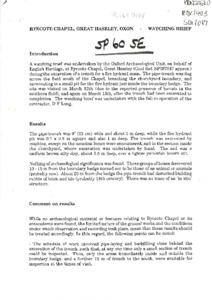 Preview
PDF




Rycote_Chapel_WB1991.pdf


Download (183kB) | Preview
Abstract
1991
A watching brief was undertaken by the Odord Archaeological Unit, on behalf of English Heritage, at Ryecote Chapel, Great Haseley (Grid Ref. SP667047 approx.)
duringthe excavation of a trench for a fire hydrant main. The pipe-trench was dug across the field south of the Chapel, breaching the churchyard boundary, and
terminating in a small pit for the fire hydrant just inside the boundary hedge. The site was visited on March 12th (due to the reported presence of burials in the
southern field), and again on March 13th, after the trench had been excavated to completion. The watching brief was undertaken with the full co-operation of the
contractor, D F Long.
1995
The Oxford Archaeological Unit (OAU) undertook a watching brief during March 1995 at Rycote Chapel. The chapel stands within the grounds of Rycote Park in the parish of Great Haseley. A drainage trench was excavated to the north of the chapel, and new drainpipes installed, in order to counteract the damaging effects of damp to the walls of the chapel. The excavation of the trench was caffied out by Mr. C. Hawkins of Brize Norton, Oxon., under the supervision of the OAU.
Actions (login required)