Lyons, Thomas (2012) Kirtling Green to Wixoe Pipeline. [Client Report] (Submitted)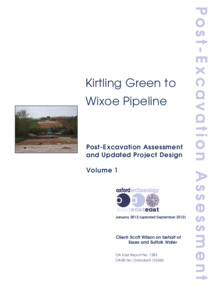 Preview
PDF




1283_VOL1version3a_LR2(1).pdf


Available under License Creative Commons Attribution Share Alike.
Download (12MB) | Preview
Abstract
Between March and June 2011 Oxford Archaeology East conducted a series of archaeological excavations and watching briefs prior to the laying of a water pipe
between Kirtling Green and Wixoe, Suffolk. The route was directly to the east of the River Stour, mostly on relatively high land within Till and it passed close to severalsmall non nucleated villages.
The archaeology revealed was multi-period with the earliest comprising onlyoccasional sparse background scatter of Mesolithic/Early Neolithic flintwork along
the pipeline. The first main evidence of activity and occupation started in c.Late Neolithic. The most significant remains was a Late Neolithic or Bronze flint
extraction/working and possible associated occupation area between Lower Cotton Farm and Water Hall Farm (WIX021).
Flint had been quarried from a former river
channel and cores had begun to be worked on-site. This was an extremely rare discovery and is of regional importance. Sparse Late Neolithic activity was recorded at Little Bradley (BRL026) and this included a single pit from which a significant pottery assemblage as well as flint working evidence was recovered. A probable Late Neolithic or Bronze Age field system was found at Great Bradley
(BYG030) including up to two unurned cremations which are likely to be prehistoric. A Middle Bronze Age cremation area at Great Wratting (WTL010) was recorded
over a c.15m distance within the 4m wide excavation area and comprised an urned cremation and up to six unurned cremations.
More than 300m from this cemetery
was part of a Bronze Age to Early Iron Age settlement recorded over a c.175m distance. A separate area of Bronze Age/Early Iron Age pits were found at Great
Wratting (WTL010) and probably represents part of a different settlement. A further possible Middle Bronze Age cemetery was found north of Water Hall Farm (WIX021)
and comprised an urned and an adjacent unurned cremation but these were isolated features. Possible sparse Bronze Age ditches were recorded at Great Bradley (BYG029) and may have been part of a field system. Likewise, Late Bronze
Age or Early Iron Age ditches at Little Thurlow (TUL021) probably also represent part of a field system with another three field systems possibly from these periods,
but were more tentatively assigned, comprising ditches at Little Bradley (BRL026), and within two areas at Kedington (KDG037 and KDG038).
A small part of an Early to Mid Iron Age settlement consisting of pits and a ditch was found at Little Bradley (BRL026). A single Late Iron Age to Early Roman settlement
was uncovered at Little Wratting (WTL010). This relative lack of Late Iron Age remains along the pipeline was in contrast with far more numerous Roman remains
revealed. Parts of at least two separate Roman rural settlements were found at WIX021 with occupation starting in both from the Early Roman period. At Great
Bradley (BYG030) there was part of a 2nd to 4th century Roman settlement. A single Early to Middle Saxon pit at Wixoe (WIX021) was the only feature dating to
this period within the pipeline. It is also possible that there were no Late Saxon features either with the Saxo-Norman to Late medieval features at Little Thurlow
(TUL021) adjacent to Broad Road probably dated to post-Conquest. Remains here included a post-built structure which may be domestic or an outbuilding, ditches and
a cobbled surface. A few medieval to late medieval remains were uncovered at Little Wattling (WTL010) as well as sparse medieval features found at Great Bradley
(BYG029) and Great Wratting (WTG018). The lack of many medieval remains was largely due to the pipe line being routed to pass present villages (and these areas
were also just beyond the medieval settlement areas). Probable medieval furrows were far more common and were postulated within several areas.
Actions (login required)