OAU, OAU (2005) The Paddock, The Royal Naval Hospital, Haslar, Gosport. Project Report. Oxford Archaeological Unit Ltd. (Unpublished)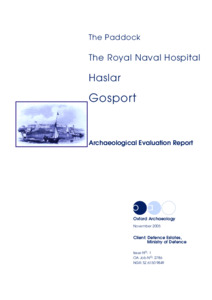 Preview
PDF




A2005.35.pdfA.pdf


Download (2MB) | Preview
Abstract
In August 2005, Oxford Archaeology (OA) carried out a field evaluation in the Paddock, Royal Naval Hospital Haslar, Gosport, Hants. (NGR: SZ
6150 9849), on behalf of Defence Estates of the Ministry of Defence. The evaluation revealed 169 graves within 11 trenches, all located towards the
eastern half of the site. There appeared to be a western limit to the burials, broadly correlating with a fall-off in the natural topography towards what appears to have been a small waterway that originally bounded the
western limit of the Paddock. Considerable levelling of the modern ground surface had occurred in recent times, with the depth of modern backfill
exceeding 3 m in the north-western part of the site (Trench 4).The graves were closely spaced but largely parallel suggesting a short time period between the excavation of adjacent burials and/or the use of above-ground grave markers. Intercutting was very uncommon. In general, the grave alignment did not follow the traditional Christian westeast orientation. Instead, most graves were aligned north-west - south-east or north-east - south-west. No mass graves were discovered. However, three exposed graves revealed multiple burials within the same grave cut,
with one grave containing the remains of four individuals. The excavated graves revealed that the majority of the dead had been interred within plain wooden coffins, and not in their hammocks, as was previously believed.
Skeletal preservation was generally fair to poor with marked leaching of bone mineral. Nevertheless, it was possible osteologically to ascertain the
age, sex and stature of most excavated skeletons, and to discern a number
of dental and skeletal pathologies. There is considerable potential for future osteological and funerary archaeological analysis of this
assemblage.
One brick-built structure (2 m x 2 m) was discovered within Trench 11. Brick typologies suggest an 18th-century date. The structure had a brick
floor laid directly upon the natural geology, and three brick-and-mortar walls. The function of the structure is unclear but may relate to the use of the Paddock as a garden (eg a gardener's or grave-digger's shed) or may
have had a more military function (eg an ammunition store).
Actions (login required)