King, Laura Land at Grenville College Bideford Devon. [Client Report] (Unpublished)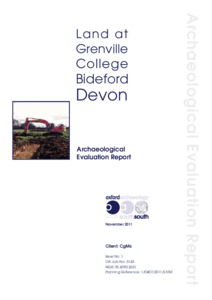 Preview
PDF




BIDGR11.pdfA.pdf


Download (7MB) | Preview
Abstract
In August 2011 Oxford Archaeology South (OAS) carried out an archaeological
evaluation on land at Grenville College, Bideford, Devon. The investigation
comprised 41 trenches measuring 40 m x 1.8 m.
Two pieces of worked flint were found, one of which was from topsoil and one was
the only find from the fill of a ditch in Trench 29. The quantity is too small to suggest
significant activity of prehistoric date.
Nine ditches, two pits and a series of stone-filled land drains were identified in the course of the investigation. Of these, one pit contained post-medieval pottery and
one, although undated, contained a deposit of burnt material. The ditches, where dated, all appear to be post-medieval in origin and represent field boundary and
drainage ditches seen on historic maps of the site. The in situ pottery finds, from Trenches 11, 14, 28 and 30 are only broadly datable to the period c.1550-1850.
There was a high concentration of post-medieval/ modern finds in the ploughsoil which may result from manuring of the ground using domestic refuse.
Some evidence for landscaping was noted to the west of the site where the upper terrace appears to have been levelled. Given that the levelling material seals the post-medieval ditches this landscaping is likely to have occurred when the college playing fields were laid out.
In the north-eastern corner of site, adjacent to an area of potential open-cast mining, an area of disturbance was noted. Here the underlying natural had been disturbed
creating a broad shallow ditch-like feature which may have related to the mining activity. No dating evidence was found.
Actions (login required)