Phillips, Tom (2010) Reach Lode New Bridge. [Client Report] (Submitted)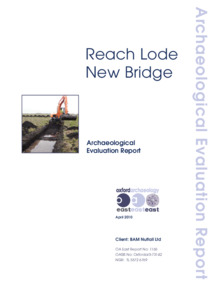 Preview
PDF




Report1165LR.pdf


Available under License Creative Commons Attribution Share Alike.
Download (1MB) | Preview
Abstract
Between 15th and 19th February 2010 Oxford Archaeology East (OAE) carried out an archaeological evaluation at Reach Lode (TL 5572 6769) in advance of the construction of a new bridge over the Lode, and two associated borrow pits/ponds, one on each side of Reach Lode.
The evaluation comprised a combination of trenching, test pits and boreholes. The trenching and test-pitting was carried out by staff of OAE, whilst the boreholes were undertaken by Dr Steve Boreham of Cambridge University. Eight trenches and six test pits were machine excavated. The evaluation took place on both the east and west sides of the Lode with the trenches and test pits split between the two; four trenches and three test pits on each side. The west side of the Lode was approximately -1.2m OD and the east side was approximately -0.5m OD.
No archaeological features were encountered and no archaeological artefacts were recovered from the trenches or the test pits. There was, however, evidence that linear drainage ditches had been cut through the peat and into the clay (trenches 1, 2 and 3). In trench 3, where the drainage ditches were perpendicular to the trench, three were observed at approximately 5m intervals.
All other deposits in the trenches and test pits related to soil formations which varied to some extent across the site, although no buried soils were identified. A sticky blueish grey clay (25) was present in all trenches and test pits, typically 0.5m below ground level. In trench 2 on the western side and trenches 4 and 6 on the eastern side, layer 25 was sealed by a sequence of soils formed under varying conditions, including marsh and creek beds.
The most significant results were obtained from a series of augered boreholes and one core, which were positioned along the line of the proposed ramp and culverts for each approach to the New Bridge. The boreholes have confirmed the presence of a large palaeochannel, up to 5m deep in the vicinity of the proposed New Bridge. A single core has been collected to provide a full range of samples through the entire sequence.
Actions (login required)