Hey, Gill and Barclay, Alistair and Bell, Christopher and Booth, Paul and Bradley, Philippa and Canti, Matthew and Dyer, Carolyn and Featherstone, Roger and Fell, Vanessa and Greig, James and Healey, Frances and Hughes, Paul and Linford, Neil and MacRae, R.J. and McDonald, Alison and Moore, John and Nichols, Karen and Robinson, Mark and Salter, Chris and Smith, Pippa (1994) YARNTON CASSINGTON EVALUATION 1993. [Client Report] (Unpublished)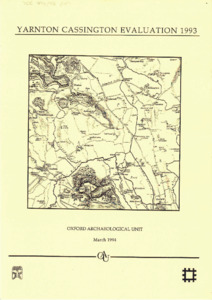 Preview
PDF




YCE93.pdfA.pdf


Download (25MB) | Preview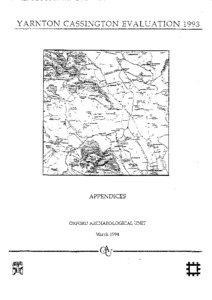 Preview
PDF




YCE93_Appendices.pdf


Download (6MB) | Preview
Abstract
In autumn 1993 the Oxford Archaeological Unit undertook evaluation in the parishes of Yarnton and Cassington, Oxfordshire with Engiish Heritage funding and the kind permission of the landowner, Mr Guy Pharoan. The
aim of the work was to assess the archaeological resource surviving in the study area. Part of this area had already been investigated by fieldwalking, excavation
and evaluation; the current work concentrated on those elements not previously examined.
The impetus for the work arose from the threat of gravel extraction and focused on the ARC Cassington gravel pit. This area encompasses a diverse landscape, continuously occupied from the Neolithic to the later Saxon
period. The scope ofthe project has been expanded to include sites around the edge of the gravel pit enabling the investigation of adjacent contemporary settlements and cemeteries at Worton and Yarnton into the medieval period.
The settlement record which the evaluation has demonstrated is remarkable. A wide range of activities have been attested on gravel terraces, the floodplain and wiLhin and on the edges of palaeochannels of the Neolithic, Bronze Age, Iron Age, Roman, Saxon and medieval periods.
A rectangular Neolithic enclosure, the ditch of which contained Peterborough Ware, lay adjacent to the Yarnton Floodplain Excavation area (YFP). Pits containing Peterborough Ware (in Ebbsfleet, Mortlake and
Fengate substyles) and Grooved Ware (Durrington Walls and Clacton substyles) were also located, one lying to the north of the enclosure and the others concentrated in an ârea further west. Other Neolithic features were
encountered in the southwest of the evaluated area. A Beaker flat grave was found to the north of the Neolithic enclosure with an exceptionally fine Beaker containing a smaller Beaker and an end scraper. Six barbed and
tanged arrowheads 1ay in a cluster beneath the pelvis of the body. Another, less well-preserved burial to the west contained a possible Beaker sherd.
Many other prehistoric features were located on the floodplain, sealed beneath Roman ploughsoil. These appeared to be concentrated around the palaeochannels which crossed the site, and formed discrete groups indicating the existence of defined activity or settlement areas. On the
second gravel terrace prehistoric features appeared to be more dispersed. However, cropmark evidence and geophysical survey demonstrated the presence of at least four ring ditches on this terrace, Lying beyond the
threatened area. Evaluation added weight to the hypothesis that settlement on the floodplain ceased in the late Bronze Age and that occupation moved onto the second gravel terrace. At Yarnton this focused on the site already evaluated on Cressweli Field, which continued to be occupied through the Iron Age,potential for the study of the development of rural society throughout the
prehistoric and historic periods.
Actions (login required)