Rees, Gareth and Diffey, John and Webster, Michael (2012) Undated Features and a 19th Century Workhouse at Sir Harry Smith Community College, Whittlesey. [Client Report] (Submitted)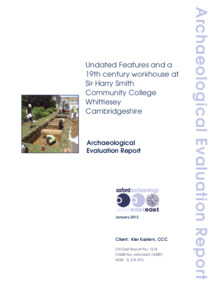 Preview
PDF




Report 1274_LR.pdf


Available under License Creative Commons Attribution Share Alike.
Download (2MB) | Preview
Abstract
Oxford Archaeology East conducted three phases of archaeological work at Sir Harry Smith Community College, Whittlesey, in advance of the development of several plots to the front of the school and improvements to the sportsfields.. The first phase, a soil profiling survey located on the school sports field, took place between the 22nd and 24nd February 2011 and consisted of the excavation of six 1m x 1m square test pits. No archaeological remains or artefacts were observed and it was shown that much of the area had been subject to truncation, probably during the construction of the sports field.
The second phase of work, a trial trench evaluation, took place between the 31st May and the 3rd June 2011. Nine trenches were excavated, six in and around the current car park, the caretaker's house and to the west of the school, with a further three in the playing fields to the north of the school.
Live electricity and gas services were encountered around the caretaker's house which necessitated the hand-excavation of test pits, rather than machined trenches. The remaining trenches were machine excavated and up to 25m in length.
The remains encountered to the front of the school primarily consisted of 19th century footings for buildings associated with a workhouse known to have stood on the site. A single undated ditch may indicate earlier occupation of the site.
In the playing fields, several undated features were uncovered cutting into the natural gravels. The three pits and two ditches recorded here indicate earlier activity within the development area, which may be related to the Fen-Causeway Roman Road, lying to the north, or perhaps a Saxon cemetery recorded to the west. A compacted gravel spread was also recorded and this may have been a track or surface associated with earlier occupation.
The third phase of work, a watching brief during construction of a Multi Use Games Area (MUGA) and Tennis Court in the sports field. This work took place on the 29th and 30th of November, resumed on the 13th and 14th December 2011, and concluded with a single days observation on the 4th of October 2012. This phase of work uncovered a series of seven furrow bases, three ditches and three pits, some of which had been previously revealed in Phase 2 evaluation trenches.
Actions (login required)