Dodds, Dan Luton Hoo Hyde Bedfordshire. [Client Report] (Unpublished)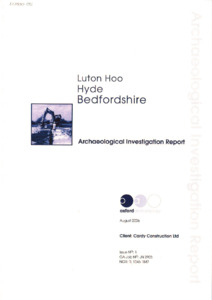 Preview
PDF




LUHOO05.pdfA.pdf


Download (6MB) | Preview
Abstract
In Januury und February 2006, Oxford Archcaeology (OA) carried out a series of field investigations at Luton Hoo, Hyde, Bedfordshire (TL 104ó 1817) on behalf of Cardy Construction Lld. The investigations revealed 3
main types of feature, all post-medieval in date - these included:
1) Medieval sized ditches, which are most likely the remnants of previous field bounduries or trackways;
2) large quarry pit, used to extract clay;
3) Small concentrations of shallow pits, which could be the remains of moorings for barrage balloons or the foundations for radar stations. In addition to these there were also a number Of undated irregular features,which are thought to be the result of periglacial erosion. There was
evidence across the estate of the use of Luton Hoo as a military centre in World War II This took thc form of asbestos remains in the topsoil prohably originating from the roofs of Nissan Huts, andl domestic rubbish
bearing the NAAFI Logo (Navy Army Air Forces Institute). There was no indication of any surviving archaeological features pre-18th century. The fieldwalking produced a small assemblage oJ worked flint, which implies
the presence of low density late Neolithic/early Bronze Age activity in the immediate area.
Actions (login required)