Roberts, Mark East Park Farm, Charvil. [Client Report] (Unpublished)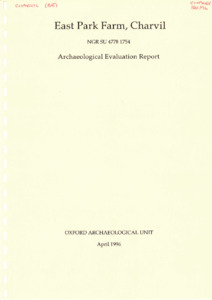 Preview
PDF




CHPK96.pdfA.pdf


Download (8MB) | Preview
Abstract
The Oxford Archaeological Unit (OAU) carlicd out a field evaluation at East Park Farm, Charvil on behalf of a Consortium (Laings Homes, Bryant Homcs and Charles Church
Developments). The area where the house and timber buildings of East Pârk Farm formerly stood was trenched but only modern deposits were present. A medieval headland visible as a ridge crosses the site from N to S. This headland formed along a ditched boundary which was
later used as a trackway to East Park Farm and whìch continued to thc S. In the N of the site prehistoric activity is indicated by a scatter of struck flints over an area of some 5 ha and early Neolithic pottery is present at the E of the site. Within the N-S headland there is a rise in the gravel subsoil with a scoop some 17 m across cut into it. The scoop contains middle Neolithic pottery and struck flint. The soils over the top of the scoop are a distinctive chocolate brown markedly different to the red-brown old ploughsoil overlying the gravel
across the rest of the sitc. This area has been protected from ploughing and it is possibls that a prehistoric earth work survives. One (middle Neolithic) Peterborough ware pit and a treethrow pit which seemed to be associated with a scatter of flints and sherds of Peterborough
ware indicated Neolithic activity. An old stream course at the S of the evaluation area contains
a Mesolithìc Thames pick and one Mesolithic blade.
Actions (login required)