Matthews, Bryan and Simmonds, Andrew East Thamesmead Business Park Bexley Greater London. [Client Report] (Unpublished)
Preview
PDF




ETB05.pdf


Download (958kB) | Preview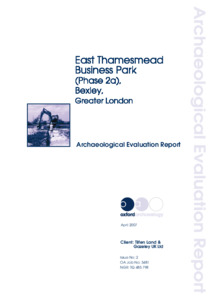 Preview
PDF




ETB05phase2a.pdf


Download (2MB) | Preview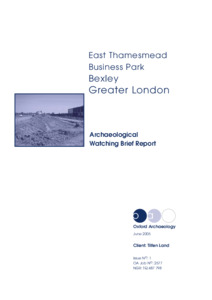 Preview
PDF




ETB05(WB).pdf


Download (593kB) | Preview
Abstract
Oxford Archaeology (OA) carried out a field evaluation of land at East Thamesmead, the Erith Marshes, south-east London, for Scott Wilson Kirkpatrick Ltd, acting on behalf of Tilfen Land. A total of ten trenches were excavated across the site. Nine of the trenches were dug to a maximum depth of 1.5 m. Trench 10 was excavated to a depth of 5 m below ground level in order to expose the base of the peat deposits. In
addition, four purposive archaeological boreholes were excavated in order to sample the sediment sequence. No archaeological finds or deposits were found.
In December 2006, Oxford Archaeology (OA) undertook an
archaeological field evaluation at East Thamesmead Business Park, Bexley, Greater London (NGR TQ 485 798) on behalf of Tilfen Land and Gazeley UK Ltd. The area evaluated was Phase 2a of a proposed three phase development of a business park. The fieldwork comprised the excavation of twelve trenches supplemented by four deep machineexcavated
test pits. These revealed a sediment sequence similar to that recorded by the Phase 1 evaluation representing successive phases of marine transgression and regression. Two levels of peat were recorded reflecting the periods of marine regression possibly equating to the known peat deposits of Neolithic and Bronze Age date within the Thames estuary. The only archaeological feature encountered was a ditch likely to be associated with the historical draining and division of Erith Marsh during recent periods. No archaeologically significant deposits or finds were
encountered within any of the excavated trenches or test pits
In June 2005 Oxford Archaeology (OA) carried out an archaeological watching brief at East Thamesmead Business Park, Bexley, south-east London The work was commissioned by Tilfen Land, in advance of development as a business park. The watching brief revealed no archaeological features or finds.
Actions (login required)