Mumford, James Belectric Solar Farm Middle Treworder Farm Wadebridge. [Client Report] (Unpublished)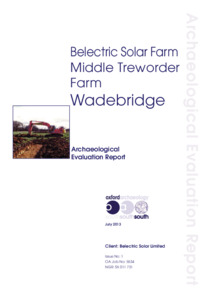 Preview
PDF




EGTW13.pdfA.pdf


Download (3MB) | Preview
Abstract
A series of nine archaeological trial trenches was excavated on the site of Belectric Solar Farm development at Higher Treworder, Treworder Lane,Wadebridge (SX 0110 7310), in response to a planning condition imposed by
Cornwall Council.
The principal archaeological potential of the site lies in its immediate proximity to 'Higher Treworder Round' (MCO21631), a probable later prehistoric and/or
Roman/post-Roman settlement, enclosed by two concentric ring-ditches with an entrance to the south-west. This important site was first identified as a cropmark on
aerial photographs and subsequently confirmed by magnetometer survey. The latter suggests a settlement extending well beyond the confines of the round itself
(MCO29843 and MCO21834).
As a result of the EIA process, the boundary of the solar farm development has been modified to exclude the round, and the most significant adjacent features.
However the geophysical survey shows multi-period boundaries and trackways extending throughout the development area, some of which may also be associated
with the round. The main aims of the investigation were to ground-truth the magnetometer survey results and recover dating evidence for the features identified, as well as any more ephemeral features that do not show up in the survey
results.
All but one trench encountered linear archaeological features (boundary ditches and trackways). In the vast majority of cases they were found in the locations predicted
by the geophysical survey and historic map evidence. A few undated discreet features of doubtful significance were also recorded, including two possible postholes in Trench 1 and a series of probable root holes in Trench 6, none of which were visible on the geophysical survey plot.
All of the surviving features were very shallow (c 0.05m to 0.20m) and covered by relatively thin topsoil (typically between 0.3 – 0.6m thick). Due to the softness of the
Mudstone bedrock the features appear to be subject to active erosion caused by ploughing. Because the features were so shallow, few reliable stratigraphic
relationships were observed that could shed light on the origins of the trackways or boundaries investigated. As no datable artefacts were recovered from any of the
features or the topsoil, and there were no deposits suitable for scientific dating, little
can be said about the date of individual features on archaeological grounds.
Prehistoric and Roman/ post-Roman settlement sites in the south-west region are sometimes aceramic, or nearly so, such that the absence of pottery cannot be said
to reflect absence of settlement in the vicinity.
The features on the geophysical survey can be divided into 3 broad phases based on their layout, appearance and the study of 19th century historic maps in
comparison with the geophysical survey and trenching results. Given the scarcity ofdating evidence these remain very uncertain.
Actions (login required)