Champness, Carl Cambridge Rowing Lake Milton Landbeach and Waterbeach Cambridgeshire. [Client Report] (Unpublished)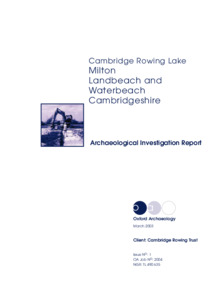 Preview
PDF




CARL03 Combined final.pdfA.pdf


Download (2MB) | Preview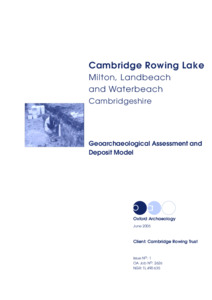 Preview
PDF




CARLMOT.pdfA.pdf


Download (3MB) | Preview
Abstract
During September and early October 2003 Oxford Archaeology carried
out Stage 1 Mitigation at the southern end of the proposed international
standard rowing course sited on land north of Cambridge. The work
comprised twenty one trenches excavated in the floodplain of the River
Cam, examining the line of the proposed Canal (from the River Cam to the
Rowing Lake) and the Cut (forming the access channel to the main rowing
course). In addition to the standard archaeological recording processes,
detailed geo-archaeological recording of the alluvial sequence in each
trench was carried out.
A pit and a posthole, both containing pottery dated to the Bronze Age were
discovered in Trench 18, on what would appear to be a raised gravel
island toward the north end of the area under investigation. At the
southern end, a middle Iron Age pit and two pits of Roman date were
recorded in Trench 3, at the edge of the first gravel terrace, while Roman
activity on the floodplain itself was represented by a small number of
linear ditches. These features were probably created by communities
living on the edge of the terrace, in order to drain the area for use as
pasture, and to define trackways providing access to the river itself.
Preliminary assessment of the palaeo-environmental indicators has
indicated that the northern half of the area may have existed as a backswamp,
while the southern half was damp grassland or meadow. During
or shortly after the Roman period fen conditions developed, resulting in
the formation of a layer of peat across the entire area. There was no
evidence for subsequent human occupation until the post-medieval period,
when a series of boundary ditches were established near the river, along
with some small-scale gravel quarrying.
Actions (login required)