Fletcher, Taleyna (2013) Medieval Settlement Activity on Land at Freckenham Road, Worlington, Suffolk. [Client Report] (Submitted)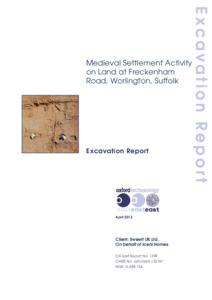 Preview
PDF




XSFWOR12_1398_Final_LR.pdf


Available under License Creative Commons Attribution Share Alike.
Download (6MB) | Preview
Abstract
Between 30th July and 10th August 2012, an archaeological excavation was carried out by Oxford Archaeology East (OA East) on land to the north of Freckenham Road on the western outskirts of the village of Worlington in East Suffolk.
An area of approximately 0.10 hectares was investigated in advance of the construction of a small residential development on behalf of Iceni Homes.
The site had previously been evaluated by the field unit of Suffolk County Council's Archaeology Service in 2011. This evaluation identified evidence of medieval occupation on the site in the form of ditches, pits and postholes. The evaluation recorded least two or more phases of occupation, from the 10th to the 14th century as well as several other undated features.
The excavation area was located in close proximity, to the north-west of The Green which is considered to be medieval in origin and it is therefore very likely that the site lies within the area of medieval green edge settlement.
The excavation revealed the presence of settlement-related activity from the medieval period, spanning approximately 400 years. Although there was no certain presence of houses, the waste material from pits, representing disposal of accidentally burnt food products, meal refuse such as mussel shell and other domestic kitchen waste along with fuel from domestic hearths as well as charred grains, would all indicate that settlement must be located close by. The discovery of settlement activity is of no surprise given the site's position on the very edge of the village. However, previous investigations closer to the present settlement core have also failed to identify any structures, or any more significant remains than this most recent excavation.
Pottery recovered during the excavation confirms the presence of remains predominantly from the 12th-14th century, however three distinct phases were noted representing approximately 400 years of settlement on, or within,. close proximity of the site starting from the 11th century. Ditches from all phases recorded continuing beyond the northern edge of the excavation area would suggest further archaeological remains may be located to the immediate north.
There were three ditches, three pits and a number of postholes which could not be dated or attributed to a particular phase either by finds, association or stratigraphic relationship. These features are mostly isolated and the inability to assign them to any phase would not affect the overall interpretation of the site.
Actions (login required)