McAndrew, Benjamin Tipping Street Stafford. [Client Report] (Unpublished)

PDF
STTIP09_PdfA.pdf
Download (1MB)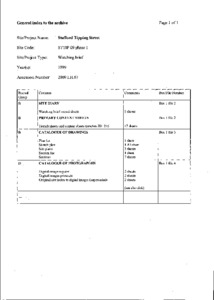 Preview
PDF




1_STTIP09PdfASTTIP09 Stafford Tipping Street Phase 1_A1b.pdf


Download (2MB) | Preview
Abstract
In May 2009 Oxford Archaeology (OA) carried out a watching brief during a
geotechnical testpitting exercise, within a car park at Tipping Street, Stafford. The
work was carried out on behalf of CgMs Consulting Ltd, as part of a pre-planning
application. A thick deposit of soil, which may have have formed a fill of the medieval town ditch, was observed in the south of the site and was cut by a 19th- or
20th-century pit. A thick layer of garden or cultivation soil overlay much of the site,
which was truncated by the foundations of 19th- or 20th-century buildings.
Actions (login required)