Fletcher, Taleyna (2013) Roman and Post-Medieval Quarry Pits at Rectory Farm, Great Shelford, Cambridgeshire. [Client Report] (Submitted)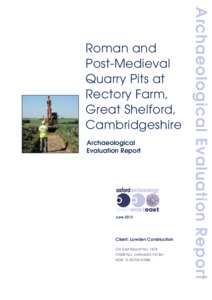 Preview
PDF




Report 1474_LR.pdf


Available under License Creative Commons Attribution Share Alike.
Download (3MB) | Preview
Abstract
Between the 15th and 17th May 2013, Oxford Archaeology East conducted an archaeological evaluation on land at Rectory Farm, Great Shelford in South Cambridgeshire.
The site lies on the western side of the historic village, located between St Mary's Church and the River Cam (Granta).
The evaluation consisted of four machine excavated trenches totalling 75m in length within the footprint of two new buildings and within areas of proposed landscaping and services which may be impacted on by the development.
Trenches 1 and 2 were located within the farmyard area which comprised existing 19th and 20th agricultural buildings the natural geology within this area was chalk. Trench 1 contained a shallow pit or pond from which an early 20th century ceramic jar was recovered and Trench 2 contained layers and demolition rubble associated with a former building represented on the 1903 Ordnance Survey Map. No significant archaeological features were encountered within this area.
Trench 3 was located close to historic Church Street within an area of the site which had considerable undulation in the ground surface. This trench contained a number of features which, given some of their vertical edges, shapes in plan as well as their location within the gravel bands/pockets at the southern end of the trench, have been interpreted as quarry pits. Roman pottery recovered from two of these features has allowed a tentative date for the group as 1st-4th century. Given their similarity in fill type and no other contrary dating evidence, these are all considered to be contemporary in date. Although no direct evidence of any settlement was recorded, the small finds assemblage is domestic in origin and possibly represents occupation or rubbish disposal close by.
Trench 4 was located in the north-east corner of the development area in the position of two proposed new-builds. This trench encountered a large quarry pit up to 1.4m deep. This pit had been partly back-filled with late 19th/early 20th century domestic rubbish including bottles and ceramic jars. Another large gravel quarry pit is depicted on the First and Second Edition Ordnance Survey maps of the site, located less than 30m to the immediate north of the trench.
Actions (login required)