Norton, Andrew and Gill, Jonathan and Croxson, Nick Clapham Park Regeneration Lambeth. [Client Report] (Unpublished)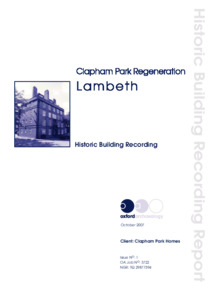 Preview
PDF




CAK07_BS.pdfA.pdf


Download (3MB) | Preview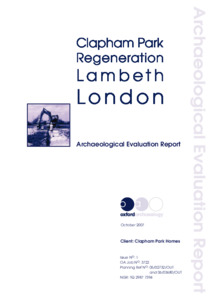 Preview
PDF




CAK07_EV.pdfA.pdf


Download (16MB) | Preview
Abstract
Clapham Park is a large housing estate in Lambeth, south London which has developed in several clear phases during the 20th century. In recent years the area has been blighted by a variety of social problems common to many similar inner-city areas and is about to undergo
a major regeneration. This will involve the demolition of some of the blocks, the refurbishment of others and the construction of a series of new structures. Prior to the
regeneration a programme of building recording has been undertaken to document the residential blocks and the overall form of the estate.
The architecture in housing estates such as Clapham Park is generally unloved and the loss of these types of blocks is rarely mourned. However, estates such as these can teach us much about architecture and society in the 20th century and if they are going to be demolished then making a record of them prior to their demolition is a valuable exercise. This is rarely done and it is a building type that has been relatively little investigated in published studies
or as buildings archaeology.
Clapham Park is particularly of interest as it retains housing blocks from different period (particularly the 1930s, 1950s, and 1970s) so it is possible to draw comparisons between periods and to gain an indication of the changing architectural fashions in the field of social
housing.
In July and August 2007 Oxford Archaeology (OA) carried out a field evaluation at Clapham Park, Lambeth, London (NGR TQ 2987 7394) on behalf of Clapham Park Homes. The evaluation revealed the structural remains of properties constructed by Thomas Cubitt in the 1830s, which
formed part of the original Clapham Park. The remains comprised the footprints of villas, sunken rooms/cellars and garden walls. No archaeological remains predating the 19th century were revealed.
Actions (login required)