Wallis, H. (2010) Anglia Square, Norwich. [Client Report] (Submitted)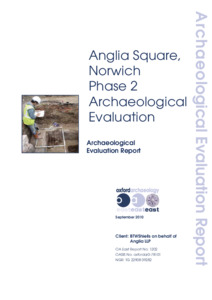 Preview
PDF




Report 1202_LR.pdf


Available under License Creative Commons Attribution Share Alike.
Download (1MB) | Preview
Abstract
Eight evaluation trenches were excavated at Anglia Square, Norwich. The earliest significant finds from the site were a few sherds of Middle Saxon pottery, the first of this date to have been found in this locality. These contribute to the growing body evidence indicating Middle Saxon settlement on the north bank of the Wensum.
The line of the Late Saxon defensive ditch was successfully traced. Excavation showed the depth, profile and fills of the ditch were similar to segments which had previously been excavated further south. The lower deposits were waterlogged and preservation of environmental indicators was good.
During the medieval period a number of large quarry pits occupied the northern part of the site. These were probably dug for the extraction of iron ore from the natural gravels. Later in the medieval period this area formed open ground or backyards behind the occupation along the street frontages.
The southern part of the development area was thought to have been the site of St Olave's church. Although the church itself was not located, three of the trenches contained burials, indicating that this area lay within the graveyard of St Olave's. The church fell out of use by the Dissolution and material from it was identified, re-used in one of the post-medieval buildings presently standing on the site.
For much of the post-medieval period the whole site appears to have been open ground or yards behind street frontage development on Pitt Street, Botolph Street and St George's Street. It was not until the late 18th century that the southern part of the site became closely built up, the demolished remains of these buildings lying just below the present ground surface. The northern part of the site did have the same infill behind the frontages, although 20th-century development has made an impact truncating some of the archaeological horizons.
Actions (login required)