Clarke, Rachel (2011) Burials and wall foundations on the site of Chatteris Abbey to the rear of No. 19 Victoria Street, Chatteris, Cambridgeshire. [Client Report] (Submitted)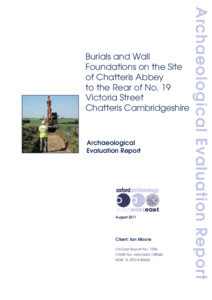 Preview
PDF




Report 1296_LR.pdf


Available under License Creative Commons Attribution Share Alike.
Download (3MB) | Preview
Abstract
Oxford Archaeology East (OA East) has been commissioned to undertake an archaeological evaluation in advance of the construction of a single dwelling to the rear of No. 19 Victoria Street, Chatteris, Cambridgeshire (TL 39314 85862). The proposed development is located within the presumed precinct of the pre-Conquest Benedictine Abbey, of which no upstanding (in-situ) remains survive.
The single 10m x 2m trench revealed a series of insubstantial walls and between three and five articulated burials along the length of the trench. The walls might be associated with the burials although a more substantial footing at the northern end of the trench could relate to the abbey buildings.
The number and extent of inhumations and disarticulated Human skeletal remains (HSR) revealed across the length of the trench, combined with the mixture of age ranges of the individuals, strongly suggests that the proposed development is located within a secular or lay cemetery within the abbey precinct. No finds post-dating the medieval period were recovered, suggesting that the burials are probably medieval and are likely to be associated with the monastic phase of the site. All of the articulated burials were interred in the Christian manner: extended with heads to the west and arms to the side; grave cuts were not well-defined.
A very small assemblage, comprising disarticulated HSR, six sherds of ?Roman and Late Saxon to medieval pottery, four tile/CBM fragments (two possibly Roman), a few animal bones (pig, sheep/goat and cattle) and a nail was recovered, mostly from a layer that may be a remnant of grave soil.
The results of this evaluation are of particular significance as this is perhaps the first archaeological investigation within the presumed claustral nucleus of Chatteris Abbey. It has demonstrated that burials are present across the trench at a depth that will be significantly impacted upon by the proposed single-house development, which on current knowledge will have footings extending to a metre below ground level. The depth and extent of the burial ground is not known but could be considerable.
These results, albeit preliminary, also raise some questions regarding current models for the location of the abbey buildings. The project has also highlighted how little is known about the plan, layout and extent of the abbey and, indeed, the nature of the pre-monastic and post-Dissolution use of the site.
Actions (login required)