Matthews, Bryan Keble College Land at the Former Acland Hospital Site at Woodstock Road and 25 Banbury Road Oxford. [Client Report] (Unpublished)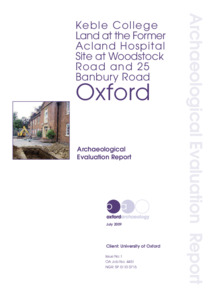 Preview
PDF




OXACLNEV09_pdfA.pdf


Download (2MB) | Preview
Abstract
In July 2009 Oxford Archaeology (OA) carried out a field evaluation on the site of the former Acland Hospital, between Banbury Road and Woodstock Road, Oxford. The work was undertaken on behalf of Keble College.
The earliest features found are likely to be a series of possible postholes and a NW-SE aligned ditch within Trenches 6 and 7, within a car-parking area adjacent to the Banbury Road. The location of a pre-historic ring
ditch is tentatively postulated in the SW corner of the site (potentially reused as a bastion within the Civil War defences).
A large pit was also located to the east of the site which produced a sherd of 10th-12th century pottery. This suggests some sort of low-level occupation activity. A layer of reworked loessic loam overlay the pit and
may indicate ploughing in this area in the 13th century.
A very large pit or ditch was identified within Trench 3, in the SW corner of the site. Its fills contained early post-medieval finds giving a TPQ of 1630+. This feature is probably the ditch that encompassed the northernmost bastion of the civil wall defences, as represented on de
Gommes Plan of 1644.A later re-cutting of the fills of this feature is likely to have been caused by subsequent post- medieval pits.
Within the NW of the site, another deep feature was identified within the Trench 2. The interpretation is problematic, given the limited profile obtained, although a single sherd of 18th century pottery was recovered from just above the base of this feature. Therefore it is most like that this is a relatively late substantial pit, probably a quarry hole.
The foundations of the former Northgate House were also uncoveredwithin Trench 5.
Actions (login required)