Rees, Gareth (2013) Prehistoric activity at Avenue Farm, Icklingham, Suffolk. [Client Report] (Submitted)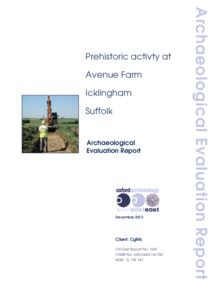 Preview
PDF




XSFICK13 Report 1547_LR.pdf


Available under License Creative Commons Attribution Share Alike.
Download (2MB) | Preview
Abstract
Between the 21st and 30th October 2013 Oxford Archaeology East undertook an archaeological evaluation on land at Avenue Farm, Icklingham, Suffolk (TL 755 747) in advance of the proposed development of a solar farm and associated services. The works consisted of forty-six linear trial trenches with a total length of 1344m.
The proposed development area consists of two major impact zones. That located to the north-east (Site A) consists of agricultural land and coniferous forest whilst that to south-west (Site B) was covered almost entirely by a modern planted coniferous forest. Earthworks were present to the east and south of Site B. These earthworks appear to relate to medieval or post-medieval use of the land in this area.
Archaeology was uncovered in both zones, with a concentration of features and artefacts located to the south and west of Site B. The south-western part of Site A had previously been truncated by large modern pits and topsoil and subsoil stripping associated with silage management. Flint artefacts were recovered from several features in Site A as well as two features which produced later Neolithic\Early Bronze Age pottery.
Several pits and shallow ditches were uncovered in Trenches 34, 35, 38 and 39 in Site B. These produced fragments of prehistoric and Romano-British pottery as well as burnt and worked flint. A pit in Trench 41 contained prehistoric pottery and flint whilst a dark soil accumulation in a hollow in Trench 46 produced worked flint.
The distribution of Early Bronze Age Beaker pottery along with associated lithics may indicate that this was an area of occupation at this time. Several shallow linear features indicate the development of an enclosed Bronze Age landscape. The character of the features uncovered by this evaluation is consistent with those uncovered elsewhere on the Fen edge where early Bronze Age activty has developed into more permanent middle Bronze Age occupation and land enclosure.
Features in Trenches 25 and 35 relate to a later period of land enclosure. A small assemblage of Romano-British pottery may be indicative of rural activity during this period in the area.
Actions (login required)