Fletcher, Taleyna (2013) A possible medieval wall and associated drain at Gate House Farm, Culworth, Northamptonshire. [Client Report] (Submitted)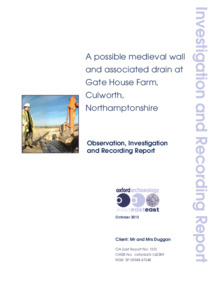 Preview
PDF




Report 1531_LR.pdf


Available under License Creative Commons Attribution Share Alike.
Download (3MB) | Preview
Abstract
Between 13th and 14th March and 23rd and 25th September 2013, Oxford Archaeology East attended ground works at Gate House Farm, Culworth in order to carry out a programme of archaeological monitoring.
This work was carried out in response to a request from Northamptonshire County Council's Archaeological Advisor. The brief required that an archaeological programme of Observation, Investigation and Recording was undertaken during any below ground works associated with the proposed extension to the 17th-century farmhouse and during the excavation of trenches associated with the ground source heat pump within the field to the immediate north of the historic farmyard. The purpose of the archaeological works was to determine and understand the nature, function and character of any archaeological remains on the site in its cultural and environmental setting.
The first phase of monitoring, undertaken in March, to the immediate north of the farmhouse consisted of a continuous trench forming a rectangular shape in plan. Positioned against the farmhouse, a sequence of foundations beneath the existing building was noted, but no other surviving archaeological remains were encountered. The trenches measured 0.60m wide and 1.3m deep.
The second phase of works carried out in September 2013 consisted of six trenches in the field to the north of the farmyard and one leading into the farmyard itself, all radiating from a 7m by 4m sump. The only archaeological remains were encountered in Trenches 1 and 2 and comprised a stone culvert/drain and the foundations of a parallel wall and an undated ditch. As a result, the trenches were redirected and no further remains encountered. The remains encountered are tentatively dated to the 12th-14th century based on pottery recovered from the back-fill of the drain cut. These features may be associated with earthworks known to exist within this part of the site.
The Council's Archaeological Advisor was informed of the works and following the re-routing of the trenches for the heat pump, no further investigation was required.
This work follows on from a historic building survey previously undertaken by OA East at the farmhouse and associated buildings in 2012 (Fletcher 2012).
Actions (login required)