Howard-Davies, Chris (2013) Aldingham Motte, Cumbria. Finds and Animal Bone Report. [Client Report] (Submitted)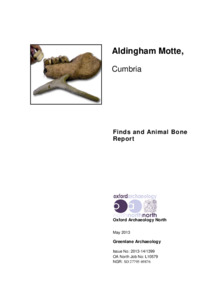 Preview
PDF




L10579_AldinghamMotte_FullRep.pdf


Download (244kB) | Preview
Abstract
Aldingham Motte (SD 27795 69876) is a Scheduled Monument (SM 37622), situated
on the north-western edge of Morecambe Bay and now partially lost to the sea.
Originating as a ringwork in the early twelfth century, possibly raised in 1102 by
Roger de Poitou, evidence from the 1968 excavation showed it to have been modified
by the le Fleming family in the late twelfth to early thirteenth century by filling in the
ringwork and raising a motte above it. The motte was raised again shortly before its
abandonment in the late thirteenth century, when the le Fleming family moved to the
nearby moated site at Moat farm. After many years in abeyance, this work is now
being brought to publication by Greenlane Archaeology.
Oxford Archaeology North was commissioned to examine and report on the finds
material stored at Kendal Museum. Examination of the metalwork in March 2013
showed this to have survived in only fair to poor condition, although a range of
medieval iron objects remained recognisable, including arrowheads, horseshoes, and
possible wood-working tools. The animal bone also proved interesting, with a
considerable amount of red deer present, particularly in Period I. Some antlers and
sheep horns also showed clear evidence of being worked.
Actions (login required)