Taylor, Karl (2013) West of Duddon Sands Offshore Windfarm: Onshore Substation and Cable Routes, Heysham, Lancashire. [Client Report] (Submitted)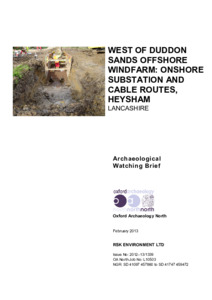 Preview
PDF




L10503_DuddonSandsWindfarm_FullRep.pdf


Download (11MB) | Preview
Abstract
RSK Environment Ltd, on behalf of their client Dong Energy Power (UK) Ltd,
commissioned Oxford Archaeology North (OA North) to undertake an archaeological
watching brief during the groundworks for the installation of an onshore cable (Cable
Route 1) from the offshore windfarm, west of Duddon Sands, from Middleton Sands
to the existing substation at Heysham, Lancashire (NGR SD 41097 57860 to SD
41747 59472). The watching brief was requested as a condition of the planning
permission, agreed as a result of consultation between RSK Environment Ltd and the
Lancashire Council Archaeology Service (LCAS). It was carried out over 37 days
between July and October 2012.
Two separate lengths of Cable Route 1 were subject to watching brief during
excavation; referred to as the Carr Lane site and the Middleton Road site. The Carr
Lane site ran between Middleton Sands (NGR SD 41142 57863) and Carr Lane (NGR
SD 41543 58090). The Middleton Road site ran through fields between the junction of
Middleton Road and Main Avenue (NGR SD 42022 59184 and NGR SD 41896
59462).
Actions (login required)