Hughes, Vix Land at Fiddington Ashchurch Gloucestershire. [Client Report] (Unpublished)

Preview
PDF




FIDD13(North)_pdfA.pdf


Download (10MB) | Preview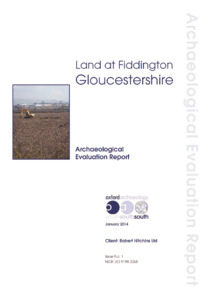 Preview
PDF




FIDD13(south)_pdfA.pdf


Download (7MB) | Preview
Abstract
Oxford Archaeology South (OAS) was commissioned by Robert Hitchins Ltd to
undertake an archaeological evaluation of land at Fiddington, Ashchurch,
Gloucestershire (centred on NGR SO 9209 3303) ahead of proposed development.
The work was undertaken between 18th March and 12th April 2013. A total of 24
trenches were excavated across the site.
Features of probable 1st-2nd century Roman date were found in the north-western
part of the site, with some activity continuing into the 3rd century. The exact nature
of the activity is unclear, but it is probable that it represents the remains of a small
agricultural settlement. Some evidence was recovered suggesting that the
settlement may have originated in the late Iron Age, although this is very uncertain.
A number of furrows and ditches that probably date to the medieval and postmedieval
periods were recorded across the site, the remnants of arable agriculture,
but no settlement remains of these periods were present
Oxford Archaeology South (OAS) was commissioned by Robert Hitchins Ltd to
undertake an archaeological evaluation of land at Fiddington, Gloucestershire
(centred on NGR SO 9198 3268) ahead of proposed development.
The work was undertaken between 18th March and 12th April and between 7th and
9th October 2013. A total of 52 trenches were excavated across the site.
Two areas with evidence of later prehistoric (probably middle Iron Age) activity were recorded and a third area contained evidence of early Roman activity. In all three cases, small subcircular enclosures, known from geophysical survey, were present. The range of artefacts associated with these features, including pottery, fragments
of fired clay from oven structures and animal bone, indicates that they represent the remains of small-scale settlement activity rather than, for example, simple stock enclosures. Previous excavation in the area suggests that such scattered smallscale settlements were characteristic of this area in the later prehistoric and Roman periods. Plough furrows, the remnants of medieval ridge and furrow agriculture, were recorded as geophysical anomalies and remains across the site, with the exception of the low-lying area adjacent to the Tirle Brook. However, no evidence of medieval or later settlement was recorded on the site.
Actions (login required)