Frudd, Andrew (2012) Melton Quarry Extension, Melton, North Ferriby, East Riding of Yorkshire, Archaeological Excavation, Area Q2 Phase 1 Interim Report. Project Report. Oxford Archaeology North. (Submitted)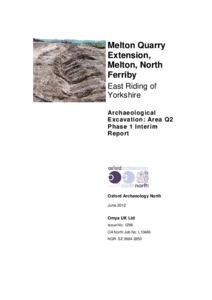 Preview
PDF




Melton_Quarry_Phase_1_Interim_Report_FINAL_040712.pdf


Download (13MB) | Preview
Abstract
A conditional planning permission has been granted by East Riding of Yorkshire Council for winning and working of minerals and deposits of minerals waste on 27.8ha of land at Melton Quarry, Melton, North Ferriby, East Riding of Yorkshire (Application number DC/02/05828/STPLFE/STRAT; Fig 1). Oxford Archaeology North (OA North), at the request of CgMs Consulting, produced a project design for two phases of work (Q2 Phase 1 and Q2 Phase 2; Fig 2) scheduled to take place, respectively, during 2012 and 2013, each investigating areas covering approximately 2ha of the application area. This report presents the interim results of the Q2 Phase 1 works.
Q2 Phase 1 of the fieldwork took place between 16th April and 16th May 2012. A large east-west aligned ditch was investigated both by hand and using a mechanical excavator. This produced Roman/Romano-British pottery from secure deposits in the base of the feature, suggesting its date, as well as human remains. This ditch corresponded to a cropmark feature (CgMs 2002) that continued into the area of the Melton Villa site (Mackey 1981), so it seems likely that the feature represents a major land boundary associated with the villa. Post-medieval pottery in the top of the ditch provides evidence that the ditch remained visible as a feature of the landscape for many centuries.
The rest of the site was sparsely populated by a scattering of charcoal-rich pits and postholes, four of which contained prehistoric – probably Neolithic pottery and two of those contained flint blades, further supporting the Neolithic date.
Actions (login required)