Hiller, John and Brown, Richard (2007) Archaeological Investigations at Buckingham Palace by Time Team & Oxford Archaeology. [Client Report]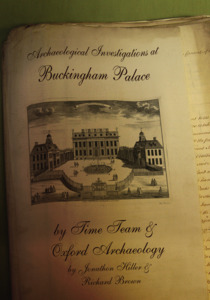 Preview
PDF




BP_TTV1.1.pdf


Download (14MB) | Preview
Abstract
Over August Bank Holiday 2006, Oxford Archaeology (OA) carried out archaeological investigations with Channel 4 TV's Time Team at Buckingham Palace, Westminster, London (NGR TQ 290 796). The project was designed with Channel 4 as a contribution to Her Majesty the Queen's 80th birthday celebrations.
Five investigative trenches were opened in the Palace Gardens. South-west of the Palace, evidence was found of Henry Wise's early 18th-century canal, built for the 1st Duke of Buckingham. Finds and cartographic evidence show that it had been abandoned and filled by c 1750. North-east of the canal, natural gravel was overlain by soil layers containing clay pipe and pottery dated to the mid-late 17th century, perhaps Civil War occupation evidence. These layers were then overlain by a thick deposit of brick rubble dating to the 18th and 19th centuries, possibly construction or demolition material from a staircase that once descended to the canal from Buckingham's garden terrace. In a trench to the north-east of the lawns, at of depth of 2.6 m, natural gravel was cut by a deep feature filled with brick, tile and `bottle bricks' of late 18th- early 19th-century date and other architectural stonework. This is likely to be the robber trench from the demolition and removal of Buckingham's garden terrace walling in the late 18th/early 19th century. West of the Palace, excavations revealed that the once formal gardens here had been cleared to natural and re-laid with flint cobbles and gravel (presumably to aid drainage) and finally consolidated with clay and soil for the present landscaped lawns. This operation probably occurred after 1820, under plans initiated by architect John Nash and carried out by successive head gardeners into the 1860s. A remarkable diamond studded gold earring was found here. Landscaping evidence and Victorian garden features were also observed in a trench at the west corner of the Gardens.

Gradiometer survey by GSB Prospection Ltd. west of the Palace produced anomalies that may be associated with the Civil War defences and the Goring Great Garden Wall, while a block of high resistance was proved by excavation to be associated with the base of steps leading to the ornamental canal. GPR survey within the Quadrangle revealed modern services and historic structures. High amplitude responses appear to correspond with planned walls found during excavations carried out here by Henry Flitcroft in 1744 and include walls of buildings sited within the early 17th century Mulberry Garden. Tentative traces were found to the south-east of the Quadrangle of structures which may relate to some part of the sequence of buildings (Blakes/Goring/Arlington House) which occupied the site until Buckingham's House was constructed at the turn of the 18th century; a central fountain known from this period was also identified.
Actions (login required)