Allen, Tim and Kamash, Zena (2008) Excavations at Spring Road Municipal Cemetery, Abingdon, Oxfordshire, 1990-2000 Volume 2. Thames Valley Landscapes (28). OUCA, Oxford.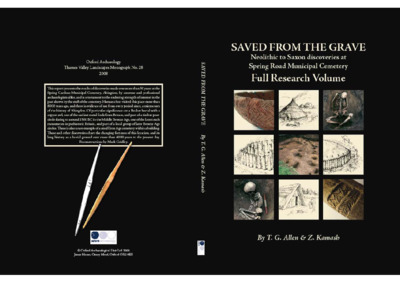 Preview
PDF (Abingdon Spring Road Volume 2)




full_research.pdf


Available under License Creative Commons Attribution Non-commercial.
Download (1MB) | Preview
Abstract
Excavations and salvage recording carried out within the Spring Gardens municipal cemetery over the last fifty years have revealed evidence of archaeological activity from the Mesolithic to the Saxon period. Situated on a gravel rise alongside the Larkhill Stream, occasional struck flints indicate that the site was visited by Mesolithic hunter-gatherers, and a few sherds of early Neolithic pottery show that the first farmers also visited. The location apparently became more important in the middle and late Neolithic periods, as shown by a Peterborough Ware vessel and a Grooved Ware pit, and by an early Beaker burial accompanied by a copper awl. Sherds of early Bronze Age pottery suggest that the site continued to be significant to the local community during this period, and in the middle Bronze Age an arc of substantial postholes probably indicates the construction of a timber circle, one of very few of this date in southern Britain. This was accompanied by various pits or postholes, and a scattering of similar features was also present in the late Bronze Age. The early to middle Iron Age saw the erection of a substantial timber roundhouse, at whose centre was a pit, and within whose circumference a group of three middle Iron Age crouched burials was found, formally deposited in purpose-dug graves. Other undated crouched burials were present across the site, possibly indicating a dispersed cemetery. There was otherwise little evidence of middle or late Iron Age activity, but in the Roman period ditched or fenced enclosures were laid out and the site was used for domestic occupation in the 2nd and 3rd centuries AD. The site was reoccupied in the 6th century AD, when a variety of Saxon features including sunkenfeatured buildings and ditches were dug, but it is unclear whether the occupation continued into the 7th century AD. In the 13th century the east side of the site was used for gravel extraction, possibly relating to the construction of a chapel and cemetery at the adjacent road junction, but thereafter the area became part of the arable fields of Abingdon. At the turn of the 19th–20th centuries the area again became a gravel pit, and this extended into the north-east corner of the site. The quarry was short-lived, and the site reverted to open ground used for pasture until taken over for burials in 1940.
Actions (login required)