Bullock, Vicky and Schofield, Peter (2010) Ashton Park, Preston, Lancashire: Rapid Desk-Based Research, Topographic Survey and Watching Brief Report. [Client Report] (Submitted)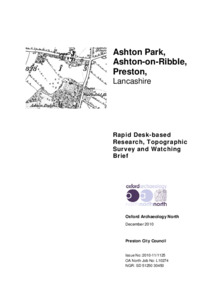 Preview
PDF




L10274_AshtonParkFullReport.pdf


Download (3MB) | Preview
Abstract
Preston City Council proposed the construction of an Adizone (a recreational area) in
Ashton Park, Lancashire, Lancashire (SD 51250 30450). The provision of rapid deskbased
research, archaeological survey and watching brief was a condition of planning
permission and a verbal brief for recording the landscape was provided by Doug Moir of
Lancashire County Council Archaeology Section. Subsequently, Oxford Archaeology
North (OA North) were commissioned to undertake the programme of investigation. A
topographical survey took place during on 30th July 2010 followed by a watching brief
during groundworks undertaken between 9th-11th August 2010.
Ashton Hall was built in 1810 by Thomas Starkie Shuttleworth and a little later in 1820
James Pedder, the son of the founder of Preston's first bank, bought the house. It
remained in the Pedder family until 1861, but subsequently had many different owners.
Edmund Robert Harris, another of Preston's most famous names, owned the house
between 1861 and 1877. The mansion was sold to 'English Electric' at the end of World
War One, and then to Preston Town Council in 1937. Preston Council retained the park
but sold the mansion on to Lancashire County Council, who, for a number of years ran
the house as a care home for the elderly. The house was sold again in the 1990s, and was
used as a nursery.
Actions (login required)