Donnelly, Mike Land West of Witney Oxfordshire. [Client Report] (Unpublished)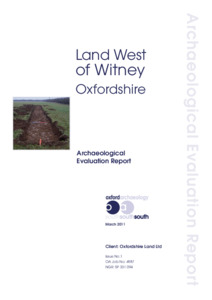 Preview
PDF




WITWST10_pdfA.pdf


Download (3MB) | Preview
Abstract
In February 2011, Oxford Archaeology South undertook an evaluation at Land West of Witney, Oxfordshire on behalf of Oxfordshire Land Ltd.
Eleven trenches were excavated at four separate locations which had been identified as having significant archaeological potential based on either cropmark
evidence or a previous phase of geophysical survey.
Trenches 1-3 in Field 1 were located to investigate a large 50m diameter ringshaped feature known from cropmark evidence, but revealed no trace of any
archaeological features.
Trenches 4-6 in Field 2 were located over a linear feature and possible pits identified by geophysical survey. No pits were discovered but a row of possible
postholes was identified close to where the linear feature was expected to be. Trenches 7 and 8 in Field 3 were located over a possible small ring ditch identified
in the geophysical survey. The probable cause of the anomaly is a series of natural
and man-made features, although these do not form a ring as such.
Trenches 9-11 in Field 4 were located to investigate an area of dense geophysical
disturbance located close to an area of known Roman settlement and burial activity.
Features were found in all three trenches, but most of it appeared to be modern
disturbance, probably associated with construction of the road. Two undated pits,
two postholes and a post-medieval ditch were also discovered.
One potentially significant feature, a posthole in Trench 4, contained a single Iron
Age pot sherd.
Fields 1 and 2 yielded stuck flints from the plough soil which are believed to date
from the Neolithic period.
The results of the fieldwork indicate that there is a very low likelihood that the cropmark ring ditch features survives in any identifiable form, probably as a result of plough truncation, as the soil sequence is very shallow. The possible ringditch identified by geophysical survey does not appear to be a significant feature. The work also suggests that the Roman activity known south of the A40 does not continue into Field 4, possibly as a result of disturbance and truncation during construction of the road.
Actions (login required)