Atkins, Robert (2014) Roman settlement features and post-medieval ditches on land at the former Royal Legion Hall, off Quaker Lane, Bardwell, Suffolk. [Client Report] (Submitted)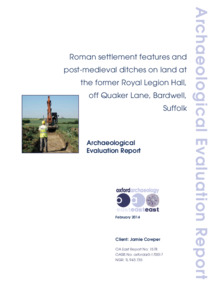 Preview
PDF




Report1578LR.pdf


Available under License Creative Commons Attribution Share Alike.
Download (1MB) | Preview
Abstract
Between the 21st and 23rd January 2013, Oxford Archaeology East conducted an evaluation on 0.49ha on land at the former Royal Legion Hall, off Quaker Lane, Bardwell, Suffolk (Figs. 1 and 2; TL 943 735) in advance of the construction of houses. A sample of c. 5% by area of the site was evaluated (208m²) comprising nine evaluation trenches.
The archaeological work found two intercutting Roman features within Trench 9 in the far southern part of the site. A moderate quantity of domestic waste (some fairly unabraded) was recovered comprising pottery, tile, animal bone and oyster shell which suggest that part of a Roman settlement had been located.
No medieval features were found despite trenches being located along and adjacent to Quaker Lane (a probable medieval road). It is likely that medieval occupation was some distance from the site as only two medieval pottery sherds were recovered. Three c.16th-18th century features were found within three trenches; two of these represent former field enclosures. The small quantity of post-medieval artefacts recovered from these features suggest there was no contemporary occupation close to the site.
Actions (login required)