Atkins, Robert (2013) Iron Age to Roman Settlement at Low Park Corner, Chippenham, Cambridgeshire. [Client Report] (Submitted)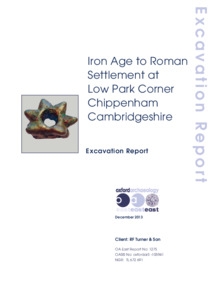 Preview
PDF




report 1275_LR.pdf


Available under License Creative Commons Attribution Share Alike.
Download (12MB) | Preview
Abstract
Between the 16th March and 24th April 2009, Oxford Archaeology East conducted an excavation on land at Low Park Corner, Chippenham, Cambridgeshire (TL 672 691) in advance of the construction of domestic and agricultural buildings, an area of hard standing and access road. This work followed on from a geophysical survey (Masters 2009) and an evaluation by trenching across the 7ha area (Atkins 2009). The excavation took place within those areas directly affected by the proposed development (c.1.2 ha).
The archaeological work found a multi-period site. Seven features or possible features were found dating to the Neolithic, Early Bronze Age and Late Bronze Age to Early Iron Age, signifying limited identifiable activity across these periods. Between the Middle Iron Age and the Middle Roman period there was permanent occupation along a north to south ridge parallel to the Lee Brook. The settlement appears to have begun around the 4th to 3rd centuries BC, consisting of an unenclosed site covering an area of over 300m (north to south) by c.150m (east to west). A number of roundhouse ditches were recorded alongside 98 storage pits and four buried soil layers. The pits were grouped in areas suggesting that they may have been linked to the individual roundhouses and/or family groups. A number of pits contained domestic refuse or placed deposits.
Activity continued into the Late Iron Age with the settlement now partly enclosed. Two ring ditches were found 50m apart with a potential third a further 50m to the south; around 70 pits were dated to this period, with a slight bias towards the east of the site close to the roundhouses. Only one of these pits contained what could be interpreted as a placed deposit and a number of sand/gravel quarries lay to the west. There is some evidence for small scale iron (and probably copper-alloy) production within an enclosure set apart from domestic occupation.
The settlement was fully enclosed between the time of the Conquest (or just before) and the late 1st century AD. Two domestic occupation areas lay 100m apart. The main domestic area was enclosed and consisted of three adjacent ring ditches with the quantity and type of finds recovered suggesting a well-connected and relatively prosperous settlement. A further five features contained placed deposits.
There was a lessening, or a shift, of settlement activity in the late 1st to late 2nd centuries. Activity was now concentrated in the centre of the area within two large linked enclosures. It is possible that this part of the site became a single farmstead, with evidence for horse, pig and sheep rearing at the site. The area had been abandoned by the late 2nd century and it may be significant that several settlements were abandoned in this period across the region.
A single Early Saxon sunken-featured building was found in the extreme northern-eastern part of the site.
Actions (login required)