Stocks-Morgan, Helen (2014) Land off Eriswell Road, Lakenheath, Suffolk. Project Report. Oxford Archaeological Unit Ltd. (Submitted)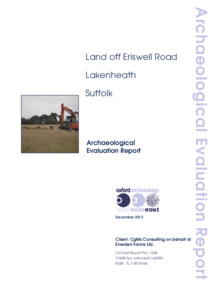 Preview
PDF




Report 1554.pdf


Available under License Creative Commons Attribution Share Alike.
Download (18MB) | Preview
Abstract
An archaeological evaluation was carried out on land off Eriswell Road, Lakenheath, Suffolk. Two fields were subject to the investigation, known as L25 and L26 in the local development plan and designated respectively as LKH360 and LKH361 by the Suffolk Historic Environment Record. A total of twelve trenches were opened in field LKH360, on land east of Eriswell Road (TL 7226 8131). Fifteen trenches were opened within LKH361, on land to the west of Eriswell Road (TL 7182 8187). The fieldwork took place between the 12/11/13 and 26/11/13.
One undated posthole and a modern pit were recorded in LKH360.
Two palaeochannels were recorded in LKH361, these revealed a series of basal sediments associated with a period of active water flow. Later peat growth was recorded when water flow significantly reduced, suggesting changing environmental conditions.
Early Neolithic activity was in evidence as shown by the recovery of several flint tools in both in-situ deposits within the palaeochannels and as residual material in later features. A colluvial (hill-wash) deposit also contained Early Neolithic flint tools.
A concentration of medieval / post-medieval quarry pits was found in trenches along the east side of the site, near to the Eriswell road, suggesting that exploitation of the land has occurred here since the medieval period.
The palaeochannels can still be seen as visible depressions in the landscape and appear to have been subsequently utilised to help drainage during the post-medieval period. Additional attempts to aid drainage in the post-medieval period are clear from the presence of two curvilinear ditches of this date.
Actions (login required)