Carey, Chris and Donnelly, Mike London Gateway Compensation Site A Geoarchaeological assessment of cultural and palaeoenvironmental resources and London Gateway: Compensation Site A Archaeological Trenching. [Client Report] (Unpublished)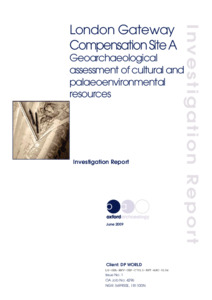 Preview
PDF




COSAGE09.pdfA..pdf


Download (11MB) | Preview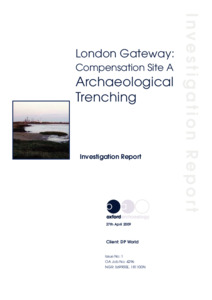 Preview
PDF




COSAGE09_archived report_PdfA.pdf


Download (6MB) | Preview
Abstract
A combination of gradiometer survey, electrical resistivity survey and evaluation trenching at
Compensation Site A, to the west of the main London Gateway development, has revealed
evidence for regionally significant multi-period archaeological remains, adjacent to Mucking
Creek, in Stanford-le-Hope, Essex. In February 2009, OA carried out a series of trench
excavations in a 41.5 Ha area which is to be transformed into an inter-tidal mudflat habitat as
part of the ecological mitigation for the London Gateway development. This involves reducing
the ground level across the site by 500 mm and then breaching the sea wall to allow the site to
flood at high tide.
The significant archaeology discovered to date includes a concentration of prehistoric worked
flint tools, including probable late Mesolithic or early Neolithic artefacts, a series of early
Romano-British rectangular settlement enclosures and contemporary salt-making sites. Saltmaking
seems to have been an important regional industry in the centuries immediately before
and after the Roman conquest of Britain, from c.150BC to c.250AD. Sites of this kind, known as
'red hills', are a characteristic feature of the Essex coastal marshes, although only a few have
been systematically excavated (Fawn et al, 1990). Medieval pottery has been recovered from
the same area as the Roman finds. The post-medieval site of Stanford-le-Hope Wharf, which
was active into the 20th century, lay immediately adjacent, completing the impression of
persistent riverside activity at this location from at least the early Neolithic until the modern
period, although this need not have been continuous. A second, less complex focus of
archaeological remains, at the eastern edge of Compensation Site A appears to comprise
further evidence for Romano-British salt-making, in the form of a second red hill.
Extensive assessment of the geoarchaeological sequence, using a combination of techniques,
has successfully characterised the depth and distribution of alluvial sediments across the site.
The relationship of archaeological deposits to major palaeochannels has been partially defined,
and the age of major sediment units has been estimated using stratigraphic evidence. Within
this 41.5 Ha site, archaeological features appear, on present evidence, to be concentrated in
areas where the gravel terrace rises to the surface in the northern half of the site, but appear
sparsely distributed or absent in the southern part of the site where the alluvial deposits are deeper.
As a result of the discoveries, a programme of mitigation is proposed before construction takes
place, involving detailed excavation of the most significant remains, controlled archaeological
stripping throughout the northern part of Site A, and monitoring during construction in the
remainder of the site.
Actions (login required)